Obama credits Gov. Patrick's economic leadership
Associated Press | 10/20/2010, 8:12 a.m.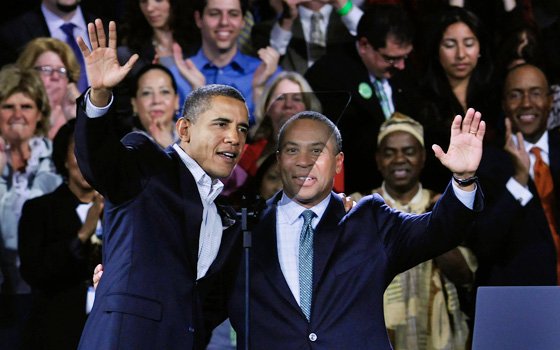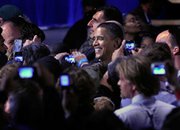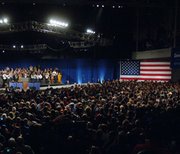 President Barack Obama tried to seal his friend Deval Patrick's re-election on Saturday, telling a rally crowd of thousands Massachusetts is emerging faster from the global recession because of the Democratic governor's leadership.
"Because Deval Patrick chose to lead in the toughest of times, this state will lead in the future," a president hoarse from heavy campaigning said. "And that's why you've got to help him finish the work Deval started in 2006."
Despite being interrupted twice by hecklers seeking funding for global HIV/AIDS prevention, the president was upbeat as he spoke in a state where he attended law school and which traditionally has embraced his party.
Obama was exceptionally laudatory of Patrick, a fellow Chicagoan and Harvard Law graduate and political ally who uses the same chief political strategist, David Plouffe.
The president said that when he's backstage at some political rallies, he's busy checking his BlackBerry.
"But when Deval speaks, I listen," he said to laughter.
Later, without naming names, the president took on Patrick's main re-election opponent, Republican Charles Baker.
"They want to let the insurance companies run wild. They want to eliminate unemployment benefits for thousands of people. They want to eliminate investments in education and clean energy. It is the same theory the other side has been peddling for years. And it is up to us to tell them we don't want what they are selling," Obama told the crowd.
The Republican National Committee scoffed at the criticism.
"The president's visit this weekend will only serve to remind voters that Patrick's tax increases, spending increases and fiscal mismanagement have resulted in unrelenting, high unemployment and unacceptable job loss for the Bay State," said party spokesman Parish Braden.
Patrick gave one of the most impassioned speeches of his re-election campaign during the rally. Besides Baker, he is being challenged for a second term by independent Timothy Cahill and Jill Stein of the Green-Rainbow Party.
Patrick joined the president in saying the global recession had impinged on his first-term agenda, but the governor sought to pivot away from potential criticism.
"Times like these are more than a test of policy; they are a test of character," Patrick said. "And I learned a long time ago, growing up on welfare on the south side of Chicago, that optimism and effort, hope and hard work is the only way to climb out of the hole."
He credited targeted investments in public education, health care and the clean energy for helping the state lead the country in job creation.
Nonetheless, he repeatedly said at a yell, "I won't be satisfied," and he challenged the crowd not to be either.
Before Obama and Patrick, the crowd was addressed by a series of state political luminaries, including Boston Mayor Thomas M. Menino, Sen. John Kerry and Vicki Kennedy, widow of the late Sen. Edward M. Kennedy.
Menino said, "I know a lot of people across Massachusetts are frustrated and angry. And rightfully so. But with all due respect, I don't think we should direct our anger at the governor. He's the guy that's trying to fix our problems."