Teens thrive in summer jobs at Partners HealthCare hospitals
10/12/2010, 8:11 p.m.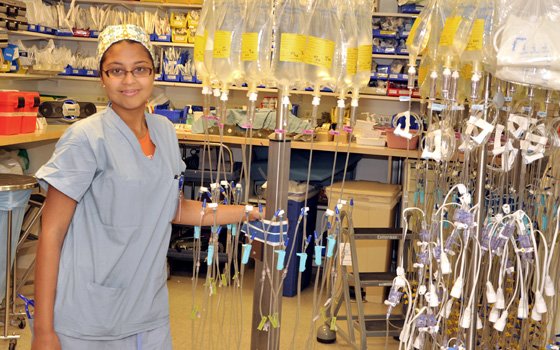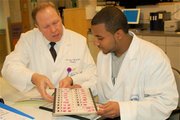 Hussen Mohammed, a Roxbury resident and Edward M. Kennedy School for Health Careers graduate, was employed in a summer job in the Pathology Department at Mass General Hospital.  He is seen here with James Happel, former director of Histology Laboratory. (Photo courtesy of Partners HealthCare)
Ambar McField, a Boston student from the Kennedy Academy of Health Careers, liked her summer job at Mass General Hospital so much she already knows where she wants to spend her summer next year. "Thanks for taking the time to be with teenagers for six long weeks to learn who we are and who we are yet to become," said McField. "I will most definitely be back next year!"  
McField was one of more than 300 Boston students who worked in summer jobs at Partners HealthCare's founding hospitals — Brigham and Women's and Mass General. The young people, from across the city's neighborhoods, worked in a wide range of hospital settings including: Operating Room central processing, transport, food services and general administrative areas. For some, the summer jobs helped them focus their future career paths on health care, and for others, it was a chance to become familiar with a hospital setting, learn new skills and meet new people.
"As the largest private employer in Massachusetts, we have a leadership role to play by providing summer jobs for young people," said Gary Gottlieb, M.D., MBA, president and CEO of Partners HealthCare and chair of the Boston Private Industry Council. "Having Boston's young people work in our hospitals, is a tremendous opportunity to contribute to the health of our city by inspiring the next generation of doctors, nurses, scientists and other health professionals," said Dr. Gottlieb.  
Students in the summer jobs program are referred from high schools or organizations that collaborate with Partners HealthCare, Brigham and Women's and Mass General Hospital.
 Mass General provided the largest number of summer jobs since the program began nearly 20 years ago and hired 150 students. Christyanna Egun, director for Mass General's Center for Community Health Improvement, hopes the summer jobs program plants the seeds for students to seek thriving health careers. "The experience that Mass General provides is just that, an experience. It provides the students with exposure to opportunities and career options that they may not otherwise have been aware of," Egun said.
While working at Mass General, the students also learn soft skills, like understanding the value of appropriate dress in a professional environment, the importance of being on time for their jobs, and how keeping the lines of communication open with their supervisors is critical for a healthy workplace.
Geoff Vercauteren, director of Workforce Development at Brigham and Women's hospital said forty nine different departments hired 100 students from across Boston in the summer jobs program this year. "That's an extraordinary commitment on the part of the managers at the Brigham, and they do it because we each benefit from the wealth of diversity and skills the students bring to the jobs," Vercauteren said. "Some of the students who come through our summer jobs program head off to college to study pharmacy or nursing or seek training in allied health fields, and we hope they'll come back to Brigham and Women's, buoyed by their new skills, ready to serve the city's patients."