Local mentoring program takes national prizes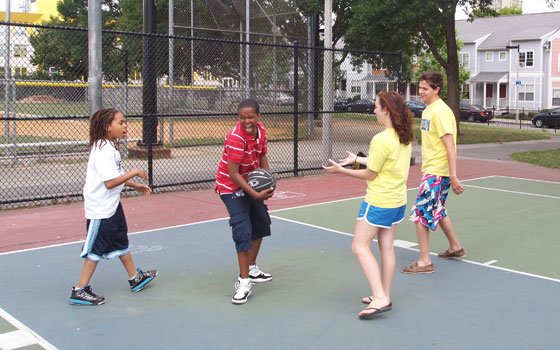 "It's really a stress reliever," said Kevin Spates, a Northeastern student who has been a mentor for about a year. "I really enjoy being a part of it."
Spates said it's a great feeling to be able to show kids what college is like and get them to think about their own chances for higher education.
"Most of them hadn't even seen Northeastern campus before we started," Spates said. "And they literally live right across the street. So it's definitely a great thing just bringing them over and showing them what their potential could be and what they can do with their lives."
Program participant Durelle Marshall, 13, who lives in Orchard Gardens, said that his mentor has helped him bring up his grades and think more seriously about what he wants to do with his future. But hanging out with him is also a lot of fun.
"I enjoy myself, every time I go with them," Marshall said. "It's like, I've never been in that world before."
Marshall said the experience has made him more mature and built his self-esteem.
"I feel much better about myself. I feel more confident," he said.
It even has him thinking about how someday he could help inspire the next generation.
"It makes you want to — when you grow up and get that age — it makes you want to mentor other students," he said. "Try to keep the community safe."
For his father Derrick Marshall, his participation in the DREAM Program has meant a chance for Durelle Marshall to see the world differently and explore his options.
"It really gives them a different light on life," he said. "Teaches them positive things and motivates them to do what they need to do in life. I'm 38 years old, and when I was 13, we never had anything like the kids have today. Opportunities. And I love that. It's really awesome."