MFA's new wing celebrates The Art of the Americas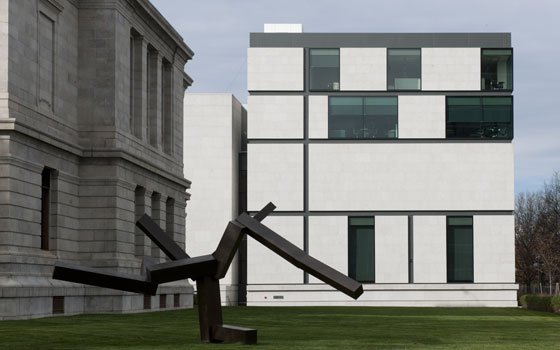 Ancient American, Native North American and 17th-century collections are located on the lower ground level. Works of 18th-century art from the Colonial period and early 19th-century are on Level 1; 19th and early 20th century art are displayed on Level 2; and 20th-century art is shown on Level 3.
Each level is spectacular in its own way.
On the third level, 20th-Century Art through the mid-1980s, natural light filters through louvered ceiling panels, illuminating the electrifying mid-century masterpieces of abstraction on view in its 22-foot-high central gallery. Accompanying large-scale works by such Americans as Mark Rothko, Morris Louis, and Joan Mitchell is Argentinean César Paternosto's magnetic "Staccato" (1965). Sculptures on view include an Alexander Calder mobile and John Chamberlain's iridescent mash-up of car parts, "Red Ryder" (1964). Complementing the pure plays of color and geometric form are Joseph Stella's soaring "Old Brooklyn Bridge" (ca. 1941) and "The Deluge" (1969) a haunting landscape by Philip Guston.
An alluring exhibit of period furniture, jewelry and home décor shows how designers applied the biomorphic and geometric forms of abstract painting to objects of daily life.
Other galleries show an earlier generation of modernists. Drawing from the great Lane Collection of American Modernists, paintings and photography. A room with works by Georgia O'Keeffe, Charles Sheeler, Stuart Davis and Arthur Dove also shows Joseph Cornell's small boxes of tiny, evocative objects next to a serene wave in stone, "Study in the Classical" by Isamu Noguchi (1958).
Alongside paintings of urban scenes by John Sloan and Edward Hopper is African American artist Allan Rohan Crite's "Tire Jumping in Front of My Window" (1936, 1947), a lively rendering of his South End neighborhood.
Late 20th century depictions of the human figure include a strange image of a napping monk and a young boy by Claudio Bravo, "Vanitas" (1981) of Chile.  
Conspicuously absent in this 20th century sampling were Andy Warhol and his Pop Art brethren; but perhaps they will be the focus of a future show.
On the second level is 19th-Century and Early 20th-Century Art. While showcasing a critical mass of some of the MFA's defining treasures, this level's galleries also offer joyous juxtapositions of styles and media.
Elegant damask wallpaper sets an opulent tone for a cluster of works by John Singer Sargent. For the first time since 1953, his iconic "The Daughters of Edward Darley Boit" (1882) is reunited with his portraits of their parents, Mr. and Mrs. Boit.
Adjacent galleries are devoted to works that look at America, including landscapes by Hudson River painters; Winslow Homer's seascapes; and Martin Johnson Heade's spare and sensuous miniatures of coastal New England.
A trio of exquisite stained glass panels by Louis Comfort Tiffany and John LaFarge leads into a group of galleries that show American painters exploring international trends, including Japanese art and European Impressionism. Childe Hassam endows a Parisian flavor to Boston in "Charles River and Beacon Hill" (ca. 1892); and "Boston Common at Twilight" (1885-6).
In fascinating contrast to the fine-art sobriety are exuberant galleries of folk art. Among the displays are two amazing, hand-crafted carousel figures from Rhode Island: a greyhound by Charles I.D. Looff and a hog by Salvatore Cernigliaro, both dated 1905.