Sometimes, money isn't everything
11/9/2010, 10:28 a.m.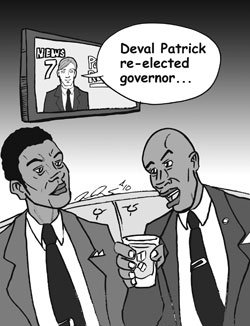 Sometimes, money isn't everything
Every two years, all of the members of the U.S. House of Representatives and about one-third of the U.S. Senate must stand for re-election. Last Nov. 2, 472 members of Congress faced the voters. According to reports, it was the most expensive interim election in history. The exact cost will not be known until all financial reports are received and processed by the Federal Election Commission. However, estimates range from $3.5-5 billion.
In the past, the major concern of voters was that wealthy candidates with the capacity to finance their own campaigns would discourage competent but less affluent candidates from venturing into the political arena. However, the results of the recent election indicate that wealthy candidates have not done as well at the polls as one might expect.
In California, Carly Fiorina, the former CEO of Hewlett-Packard Corp. contributed $5.5 million to her campaign and failed to unseat Barbara Boxer for the Senate. In Connecticut, Linda McMahon, co-founder of World Wrestling Entertainment Inc., contributed $46.6 million to her campaign and lost in her bid for the state's open U.S. Senate seat. In Florida, billionaire Jeff Greene spent $23.7 million of his own and lost in the democratic primary for the state's U.S. Senate seat.
According to Washington's Center for Responsive Politics, 58 candidates gave $500,000 of more to their campaigns for federal office this year, and 30 lost in primaries or dropped out. The evidence is mounting that it is not so easy to buy your way into political office.
However, an even more serious problem looms. Last Jan. 10, in the case of Citizens United v. Federal Election Commission, the U.S. Supreme Court in a 5-4 decision overruled provisions of the 2002 McCain-Feingold Campaign Reform Act that prohibited broadcasts and publications by corporations in opposition to a candidate within 60 days of an election. Also, federal law now permits corporations and wealthy individuals to contribute to special public affairs organizations without revealing their identities.
Further lessening of restrictions on corporate involvement in elections could seriously tip future financing. It is important for African American leaders to stay ahead of this issue.
A democratic tide
In the recent election, voter turnout in predominantly black wards was about the same as Boston's average — 43 percent. However, 96 percent of the black vote went democratic. As a result, the citywide vote for Deval Patrick was 70.3 percent.
Some critics have tried to assert that the black vote is racist. However, a review of the black vote in recent presidential elections shows the same lopsided margin for Bill Clinton, Al Gore and John Kerry, as well as Barack Obama. Neither Clinton, Gore nor Kerry have as yet disclosed any African heritage in their family trees. The only reasonable conclusion, then, is that blacks overwhelmingly support the Democratic Party.
It is time to maximize black political involvement. There should be an ongoing campaign to register new voters and a continual program to keep people informed about government programs. The elimination of civics in public education has left too many people ignorant of how government can work for them.
It is time to maximize black political power.