Arts
11/9/2010, 10:27 a.m.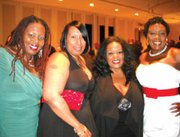 'The MOMologues: Pink Ribbon Overdose'
"The MOMologues: Pink Ribbon Overdose," a version of the wildly successful stage production "The Vagina Monologues," was a scripted reading about five women finding out they had breast cancer and how each of them dealt with it in their own way.
The cast included Julie Nations, the executive director of the Ellie Fund; Bianca de la Garza and Susan Wornick, WCVB-TV news anchors; actress Erica McDermott and Karen Holmes Ward, host of WCVB-TV's CityLine.
Held at the Hard Rock Café Boston, the sold-out event raised funds for the Ellie Fund, a nonprofit organization that provides transportation to medical appointments, childcare, housekeeping, groceries and meals free of charge to more than 500 breast cancer patients and families across Massachusetts each year. The fun-filled night also included a live auction with Wornick as auctioneer and she was hilarious and made the evening rock!
The Hard Rock's private room, where the fundraiser was held, was filled to capacity with mostly women (and a few men), but I couldn't help thinking that it would have been a truly amazing event if there were more women of color included or invited, since breast cancer affects all women, not just Caucasian women.
According to a 2006 report by the Columbia University Medical Center in New York, though breast cancer is less common in African American women than white women, when we do develop the disease we are more likely to die from it, especially if we are under the age of 50. The breast cancer death rate in African Americans is 37 percent higher than for whites, and African American and Latina women are dying in disproportionate numbers because of the barriers they face while fighting the disease.
The 23rd Annual Steppin' Out Gala for The Dimock Center
It had been several years since I attended what some may say is "the social event of the year" — Dimock Center's Annual Steppin' Out. I was definitely looking forward to dressing up and going to the gala at The Westin Copley Place Hotel.  It kicked off at 6 p.m. with a dinner for more than 200 people. The fun really began at 8 p.m. with dancing and music in five rooms. Two of the hottest rooms of the night were the Latin room which featured Eddie Palmieri Brian Lynch Quartet and the New York based octet Mango Blue. The second room that was hot, hot, hot featured chanteuse Maysa, former lead singer of the acclaimed British jazz/funk/RandB band, Incognito.
When I first entered the room there were about 20 people sitting at tables. By the time Maysa finished one of her two sets that night, it was standing-room only. Her voice is absolutely amazing and her sound is definitely influenced by some of the greats like Sarah Vaughan, Billie Holliday and Dinah Washington, but still very much her own and unique. That was definitely one of the highlights of the night for me, in addition to catching up with old friends. Everyone was having a wonderful time, laughing, mingling and taking pictures. Some of the guests that night included Cedric Maxwell, former Boston Celtic; "Coach" Willie Maye, Evelyn Reyes of Boston Latino TV, Jose Masso, host of WBUR's  Con Salsa! and Latoyia Edwards, NECN anchor (and one of the evening's co-hosts).