Classically trained jazz violinist Regina Carter recently dropped her latest CD "Reverse Thread" and it captures a full range of human emotions in African folk songs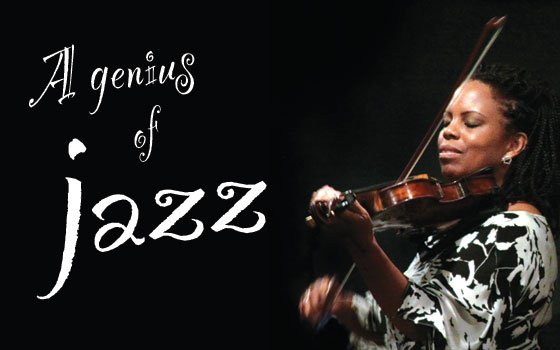 The intimate club setting suited the ensemble, which had the feeling of a chamber group led by the warm and gracious Carter, who presided and played with serene authority and joy.   
Generating voluptuous emotion through musicianship characterized by formal clarity and restraint, the players were faithful to the apparent melodic and rhythmic simplicity of the folk melodies. The uncrowded arrangements made room for the music to expand at the hands of the musicians into impassioned solos, duos and blends that plumbed the story within the song and followed its original thread without losing it.
Watching the players manipulate instruments that are not everyday tools of a jazz ensemble was part of the fun — from Holshouser's Italian accordion with its glittering art-deco grill ("It's really just sparkly foil," he wrote in an e-mail) to Sissoko's long-necked kora.
Attired in a dark blue dashiki, Sissoko sat on a low stool to cradle his kora and pluck its 21 strings with his long, slender fingers, creating dulcimer-like sounds that varied from percussive to lyrically melodic (at one point evoking rippling water). His grandfather taught him how to play the kora, he told the audience, and he built his instrument in the traditional way. He covered a large gourd with cow-hide to make its base and used fishing line for its strings.
Only an acoustic bassist as inventive and agile as Chris Lightcap could meet the challenge of providing a pulsing axis to the music while adding subtle tonal color and joining the violin and kora in melodic and rhythmic variations that often unfolded as much like chamber music as jazz.
The bass, violin and kora intertwined with richly textured and delicate percussive accompaniment by drummer Garnett and the chimera-like voice of Holshouser's accordion, which varied from a low drone to a high pitch in contemplative, plaintive passages of  "N'Teri," a song by Habib Koité of Mali that Carter said was about friendship. She described another meditative piece, "Kothbiro," by Ayub Ogada of Kenya, as "a prayer for rain."
Introducing "Hiwumbe Awumba," a traditional song that she unearthed in the recordings of a Ugandan Jewish community, Carter said that she was surprised to learn that in translation its title said, "God creates and then He destroys."  "I thought it was happy and joyful music," she told the audience. "But what I think it means is, that we should enjoy life today. None of us is getting out of here alive."
The group opened each song by playing its core melody and rhythm, often a solo or duo that conveyed the raw flavor or quiet lyricism of the original. Then they traded parts and unraveled the song, mining its harmonies, rhythms and textures before returning to its core.
As Holshouser introduced his arrangement of "Zerapiky," a traditional vocal-and-accordion piece from Madagascar, he held up an MP3 player and let the audience hear part of the original recording, with its spare, punchy chants and chords. Then the group took it to a rousing, danceable high with whirling violin and accordion.