Mo' better greens: A guide to healthy living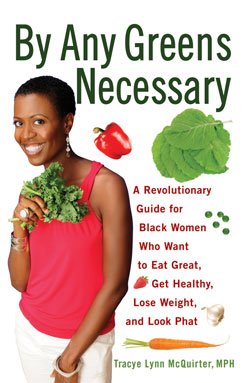 "By contrast, fruit and vegetable farmers don't get large federal subsidies because they can't afford lobbyists or large campaign contributions," she continued.
She also exposes the negative influence of advertising. The food industry spends $35 billion on advertising per year — more than any other industry in the United States. But more than 70 percent of these advertising dollars are spent on "fast food, processed foods, snacks and sweets," whereas just 2 percent is spent on fresh, healthy foods. This junk food advertising budget is also more than 50 times greater than what the USDA spends on nutrition education annually.
In addition, consumption of meat contributes to environmental degradation, according to her book. "Livestock production for meat and dairy causes more global warming than the entire world's transportation combined," she said.
"A hamburger damages Mother Earth more than a Hummer does," she added.
For McQuirter, knowing where food comes from is just as important as what it does to your body. "If you liberate your mind, your mouth will follow," she told the crowd in Roxbury.
But she is sure to stress that eating healthfully — and eating vegan — is also delicious. "I love good food, I love to eat," McQuirter said at the festival. "I don't come to this from the point of view that you have to deprive yourself of anything."
 "By Any Greens Necessary" also includes recipes for more than 40 vegan dishes, including Mediterranean chickpea salad, lentil soup, broccoli ginger cashew stir-fry, spicy collard greens, chocolate mousse tart and strawberry cheesecake.