Distressed homeowners flock to NACA event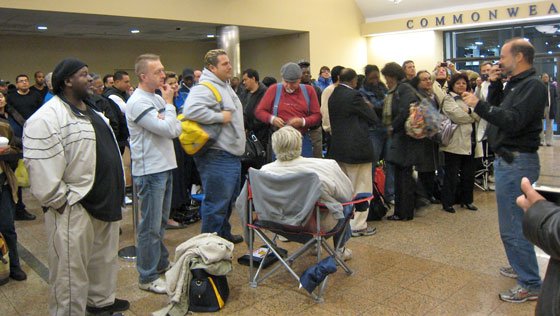 Every major lender is under contract with NACA and most were at the event today, he told them. "The decision-makers are here. They can't tell you they can't make a decision," he said.
Marks, who was a union activist for the Hotel Workers Union in Boston before turning to housing advocacy, is known for aggressive tactics that he calls "nonviolent bank terrorism." One unorthodox strategy is to take groups of distressed homeowners on bus tours through wealthy suburbs, dropping in to confront bank CEOs at their homes on Sunday morning. Recently he distributed flyers with JPMorgan Chase CEO Jamie Dimon's picture and phone numbers, urging angry homeowners to call Dimon at all hours.
Inside the sprawling World Trade Center, amid a highly organized sea of lender tables and counseling stations, Marks explained the Save the Dream process. For homeowners with stable income, even if low, NACA proposes restructuring the loan, either by lowering interest rate or reducing principal. For unemployed or underemployed people, they propose a "forbearance plan," in which only very small payments are made until income is restored.
"If someone comes through NACA," Marks said, "they're likely to save $500 to $1000 in payments."
Katina Fields, NACA's communications and public affairs coordinator, said Save the Dream conferences so far have had about an 80 percent success rate, with 30-35 percent of attendees walking out with a same-day solution, and the others leaving with a contingent deal that is usually settled within weeks.
What sort of magic is this, when so many homeowners have been denied or are ready to throw in the towel on drawn-out modification attempts?
"We do aggressive advocacy. We hold the CEOs accountable," Marks said. "And we do the job for them."
NACA takes a load of work off the banks by counseling homeowners, forcing them to create an accurate, detailed budget — including expenses not included in the HAMP formula, Marks said — and helping them assemble all needed documents — and verifying at the last minute that everything is current. The banks can't argue that paperwork is incomplete or they don't remember receiving it.
Marks also stressed the value of lenders meeting their customers face-to-face.
"It brings home that it's a human, a family, that there are consequences to their decisions," he said. The recently publicized "robo-signing" of foreclosure documents shows how banks have lost personal accountability, he said. "That was 10,000 families, not 10,000 affidavits."
Despite his anti-bank actions and statements — or perhaps because of them — Marks has forged productive ties with major lenders. Bank of America alone had 90 representatives at the Boston event, each equipped to approve a modification plan on the spot.
Angeanette Dowles, a Bank of America vice president in the Home Retention Division who has worked many of these conferences, echoed Marks's explanation of why the process works here.
"NACA does a good job of prepping the customer," she said simply. The problem when customers seek modifications on their own, she said, is their documents often "trickle in over weeks," making some portion of the information out of date at any given time.