Bloodied, but unbowed
Yawu Miller | 11/2/2010, 11:15 p.m.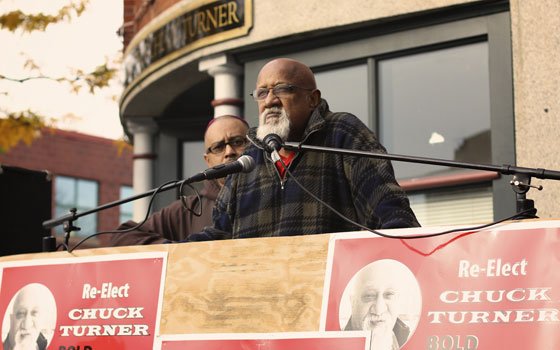 The maximum sentence is 35 years: 20 for the attempted extortion charge and five years for each of the false statement charges.
Mayor Thomas Menino also issued a statement, saying Turner has represented the people of his decade well over the last decade.
"I remain shocked at the actions Councilor Turner has been found guilty of today and will continue to work hard promoting a spirit of public trust and confidence in our elected officials and government agencies," Menino said.
Saturday, Turner was back in front of his office, rallying a crowd of about 200 with a fiery speech denouncing the FBI and former U.S. Attorney Michael Sullivan, whose office filed charges against him.
"It's very clear that the conspiracy wasn't between Dianne [Wilkerson] and I," he said. "It was between Mr. Wilburn and the FBI."
Turner accused the FBI of colluding with Wilburn and his business partner, Felix Soto, whom Turner says began working for the FBI after he was arrested for selling 200 grams of cocaine. Soto received a 7-year suspended sentence for the crime, while the buyer, Jesus Ayala, is now serving a 10-year sentence.
Turner also blasted Wilburn, deriding the informant for accusing the prosecution of revealing his identity.
"You got your 30 pieces of silver, so shut your mouth," Turner said.
Among those in attendance were state Rep. Gloria Fox, former state Sen. Bill Owens, former Rep. Mel King and prominent ministers including Felipe Teixeira, Miniard Culpepper, Gregory Groover, Rodney Muhammad and William Dickerson.
"Most people I think know [Turner] as a man who has been tremendously and unselfishly working not only for his constituents, but also for peace and justice," Fox said. "I'm here to let him know that I know what it feels like. I want him to know I'm here for him. In our darkest hours, we should not be alone."
Many in attendance said they think Turner is innocent of his charges.
"I think he was set up," said retired Boston firefighter Karen Miller during Saturday's rally. "The FBI and Wilburn set him up and it's not right. He never asked Wilburn for anything. He never said 'I'll give you a permit in exchange for money.' "
Like others interviewed by the Banner, Miller questioned why the U.S. attorney failed to file charges against any members of the Liquor Licensing board, if permits could be obtained through bribery.
"The people at the licensing board, who have authority weren't touched," she said. "Why is that?"
Addressing the crowd at Turner's rally, City Councilor Charles Yancey compared the FBI's case against Turner to the agency's long history of targeting civil rights activists.
"Why was the FBI so hell-bent on destroying one of our most powerful leaders?" he said. "What is it about people who challenge the status quo that they fear so much?"
Turner appealed to the crowd to write letters to U.S. District Judge Douglas Woodlock asking that he be put on probation, rather than serving time.
"I'm not afraid to go to jail," he said. "But the reality is, I would rather organize out here than organize in jail."