Health fair educates Roxbury residents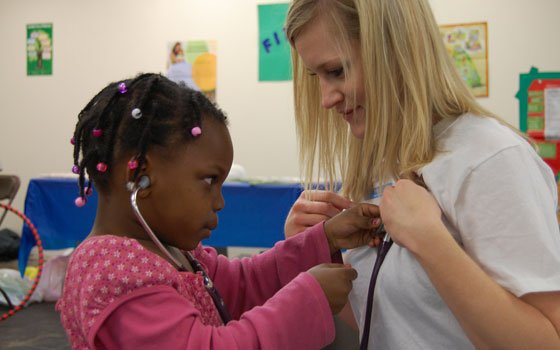 Keelin Roche, also in the Tufts M.D./M.P.H. program, staffed the area with a display of pamphlets about alcohol and smoking. She got a quick education in listening and asking questions as participants told her things they might not reveal to their regular doctors about drinking alcohol and smoking — both cigarettes and marijuana.
The biggest eye-opener for visitors to her table, she said, was a flyer about the coverage MassHealth provides for stop-smoking medications and counseling.
Besides the 18 or so students of medicine, public health and nutrition, there was a medical doctor on the premises.
Dr. Burton Mandel is chair of the MMS Committee for Senior Volunteer Physicians, a group of retired and semi-retired doctors who volunteer their time at free clinics around Massachusetts. He was there to field questions from participants and students and to advise people on cases where screenings revealed a serious problem.
A participant asked Mandel about her high blood-sugar reading. He posed questions to her: "Have you eaten anything today? Taken any medications?" No to the first; yes to the second.
He suggested she have her blood sugar tested again in four to six weeks. He also advised her to pay attention to her weight, stay off sweets and not drink soda. And to exercise.
"I walked all the way here!" she protested.
Like the Berry brothers, this woman has a regular doctor. But many community residents do not see a doctor often enough, Mandel said. And that's where these free screenings can be of particular help.
"The name of the game with this type of fair is to attract people that don't normally go to a doctor," he said, "either because they have no insurance or because they're just not comfortable with doctors."
Others, especially the elderly and those needing chronic care, may simply have difficulty getting to appointments.
Some participants learned as much from the nutrition and fitness stations as from the medical screenings. Martha Jefferson, 53, pointed around the room at all the tables where she learned something. She found it helpful to be instructed on reading nutrition labels for health and weight control, she said, and to hear about sugar and caffeine levels in soda.
"They also said — do something to exercise. It's important," she said. "I just happened by here today — and I'm glad I did."
Mandel, a dedicated volunteer at the tail end of his medical career, had high praise for his younger counterparts.
"It's underreported and underrecognized, but medical students are very concerned with serving people who are otherwise marginalized," he said. "I think [these students] share my belief that health care should be a right, not a privilege."