Health fair educates Roxbury residents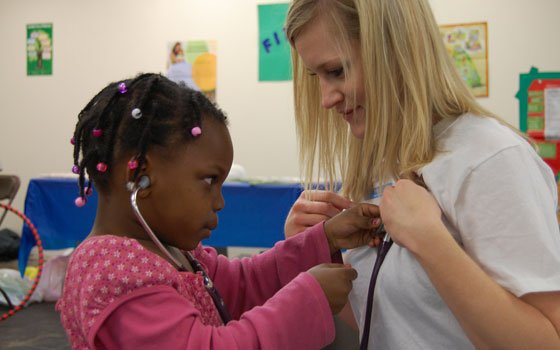 A crew of area medical students stepped away from labs and libraries to practice what they study while helping the community at the Healthier Life Steps Health Fair last month at the Save-A-Lot in Roxbury.
Students from the state's four medical schools at Boston University, Tufts University, University of Massachusetts and Harvard University weighed people, pricked fingers and cuffed arms to measure blood sugar and blood pressure. They also doled out advice and literature on nutrition, exercise, women's health and smoking cessation.
Conducted by the Medical Student Section of the Massachusetts Medical Society (MMS), the event attracted about 140 people.
Leroy Berry, 53, of Roxbury, was one of the first visitors. He stepped on a scale to have his height and weight measured, but declined the blood pressure cuff.
"I already know I have high blood pressure," he said, "But I'll be back later with my wife and my grandkids."
Berry is already taking medication to control his blood pressure and has a primary care physician monitoring it, he said. Still, he was glad the health fair was happening.
"A lot of black people should get their blood pressure checked," he said.
Al Berry, Leroy's brother, decided to complete the circuit of screening and information stations set up around the room. He, too, has a primary care physician, but found the health information interesting. He picked up some literature about quitting smoking. And the free screenings did provide one bit of news for him — his blood-sugar level was higher than expected.
Many participants said they have a regular doctor, said event coordinator Ryan Seibert, a second-year medical student at Boston University Medical School and governing council member of the MMS Medical Student Section.
But that doesn't necessarily translate into adequate health checkups, he noted. For instance, a woman with a strong family history of diabetes said her doctor had never measured her blood sugar. At the health fair, her test showed she had elevated blood sugar. She went away with a plan to discuss this new information with her doctor.
At the body mass index (BMI) measurement station, a participant expressed shock that her BMI indicated obesity. "That's scary!" she said.
Most of the screenings showed normal or only slightly out-of-range readings, though, in one case, an elderly woman with a very high blood-pressure reading was advised to have her daughter take her to a clinic as soon as possible, said Seibert.
The MMS Medical Student Section conducts a service event every year, Seibert said, but this event had more emphasis on nutrition than previous events did and was more interactive.
"We're looking at this as a way to serve the community, but also to learn from them. We learn; they learn. It's not one-way," he said.
Besides imparting health information to the community, health fairs give medical students a chance to get outside their school environment and practice talking with real people about health.
"When you're in your first year, you don't usually get to see patients," said volunteer Daria Thompson, a first-year student in a joint degree program for a doctor of medicine (M.D.) and a master's in public health (M.P.H.) at Tufts Medical School. Thompson spent part of the day informing participants of the sugar content of various sodas and fruit drinks.