On a mission: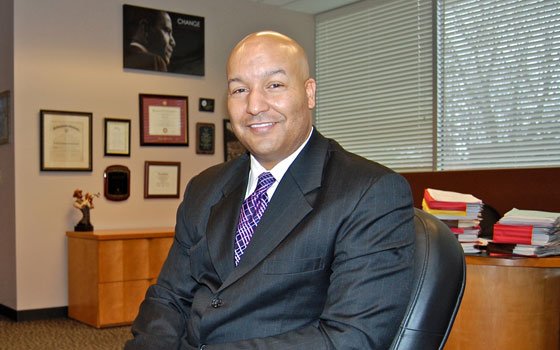 As Conrad sees it, he's on a mission, and he talked about it in a recent interview at the Parole Board's central office in Natick.
"I consider parole work a ministry, a calling," said Conrad, who is also an ordained deacon at Morning Star Baptist Church in Mattapan. "I don't want to break people's spirits, even when I deny them parole. I speak to them about the possibilities of what they can become."
As chairman, he takes a multi-pronged approach to make parole effective. He studies other states' correctional systems to learn and share best practices. He invites graduate programs at UMass Boston and Northeastern University to collect and analyze data on the Parole Board's performance.
Before hearings, he pores over the inches-thick case files that help ensure informed decisions. He asks tough questions — the questions his neighbors and the people in the next pew at church want to know the answers to, he said. He casts his vote, and loses sleep over some cases.
And he keeps one eye focused on the next generation, lecturing regularly to college criminal justice classes and mentoring at-risk teens.
A Cambridge native, Conrad graduated from Rindge and Latin High School and went away to study business at the historically black Norfolk State University. After returning to the Boston area, he did a short stint in catering and conventions and then worked for Action for Boston Community Development, helping women make the transition from welfare to gainful employment.
After a few years, he followed his older brother's footsteps into police work, influenced by the admiration on his father's face at the brother's badge-pinning ceremony, he said.
He spent two decades as a police officer, first with the Massachusetts Institute of Technology's campus police, and then with the Town of Winthrop —where he was the first African American hired in the city's history — and finally, for 16 years, with the Milton Police Department.
While on the Milton force, he earned a second bachelor's degree from Curry College and a master's degree from Boston University, both in criminal justice. In May, Boston University will award him the 2010 Distinguished Alumni Award for Service to Community.
He also took an interest in local youth, implementing a Drug Awareness Resistance Education (D.A.R.E.) camp and a summer youth basketball mentoring program in Milton.
"I've always gravitated toward helping people," he said. "I never approached police work as arresting people."
Conrad's spacious office is a photo gallery of people he admires — African Americans who paved the way for him, like Martin Luther King Jr., Barack Obama and some of Conrad's own family members, as well as people who simply excel at what they do.
"Most kids of color — their heroes are basketball players, but Bobby Orr was amazing to me," he said, pointing out the famous photo of the legendary Boston Bruin winning the 1970 Stanley Cup final. "I actually got that signed, so I'm really proud of it."
 Behind his desk are family photos, reminders of those who have given him strength: his mother, who made him learn how to cook and sew before she died of cancer when he was 14; his father, who adapted to being a single dad and became Conrad's "rock" during his high school years; his older siblings; his wife of eight years, Jacqui, and their blended family of three teenaged sons.