U.S. census sends forms; $400 billion at stake
Associated Press | 3/24/2010, 6:01 a.m.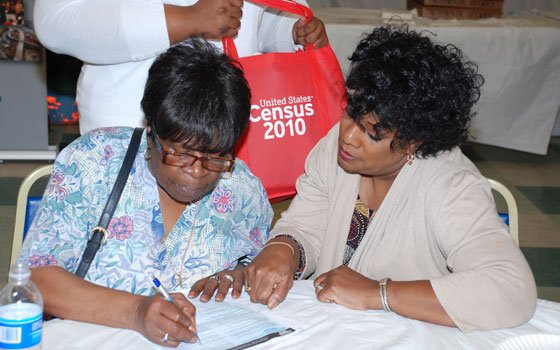 Let the count begin.
More than 120 million U.S. census forms began arriving last week in mailboxes around the country in the government's once-a-decade population count that will be used to divvy up congressional seats and more than $400 billion in federal aid.
Fast-growing states in the South and the West could stand to lose the most because of lower-than-average mail participation rates in 2000 and higher shares of Hispanics and young adults, who are among the least likely to mail in their forms.
Did those $2.5 million Super Bowl ads work? Stay tuned.
"When you receive your 2010 census, please fill it out and mail it back," said Census Bureau director Robert Groves, who kicked off the national mail-in campaign Monday in Phoenix, Ariz., a state which could gain up to two U.S. House seats because of rapid immigrant growth in the last decade.
Groves is urging cities and states to promote the census and improve upon rates in 2000, when about 72 percent of U.S. households returned their forms. If everyone who receives a census form mails it back, the government would save an estimated $1.5 billion in follow-up visits.
Speaking in an interview, Groves said real-time census data showed public awareness of the 2010 count had improved since January to levels similar to 2000 at this point, which he called "good news." Still, he remained particularly concerned about motivating young adults, who were lagging other groups. Many twenty-somethings now on their own were living with their parents in 2000, so they haven't had the experience of filling out census forms.
"If the American public comes through in the way everyone is capable of, we'll have a great census," Groves said.
The next few weeks will be critical. Even as it aims high, the Census Bureau predicts that maybe two-thirds of U.S. households will mail in the form. That's because it faces special challenges of growing U.S. apathy toward surveys, residents displaced by a high number of foreclosures, as well as immigrants who have become more distrustful of government workers amid a crackdown on illegal immigration.
From May until July, it will send census-takers to each home that doesn't reply by mail, which sometimes leads to more inaccurate responses.
In 2000, Florida, Georgia, Nevada, Arizona, Texas and North Carolina each had below-average mail participation rates of less than 70 percent, according to newly released census data. Since then, many of these states have seen higher rates of foreclosures and rapid growth of Hispanics or blacks, who are often more reluctant to turn in their forms. Each of these states stands to gain at least one U.S. House seat, with Texas picking up as many as four.
On the other end of the scale, Midwest states such as Wisconsin, Iowa and Nebraska ranked at the top in mail participation, at roughly 80 percent. These states had higher shares of older white residents, who are more likely to view census participation as a civic duty. Iowa could lose one seat based on slowing population growth, while seats for Wisconsin and Nebraska are likely to remain unchanged.