'Paradigm shift' urged at domestic violence panel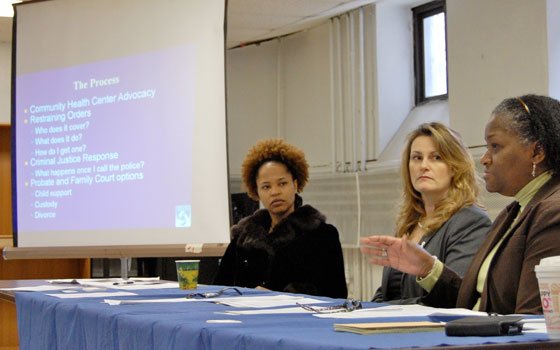 Nationally, on average, three women are murdered every day by their husbands or boyfriends.
In Massachusetts, 11 incidents of domestic violence have left 14 people dead and three seriously injured already this year.
These were some of the statistics cited by attorney Mardi Chadwick at a panel discussion last week on domestic violence in the community. Organized by the Jamaica Plain Violence Intervention and Prevention Collaborative, the discussion attracted an audience of local law enforcement officers, counselors, advocates and youth workers.
Many said they came to learn more about the problem and, more importantly, about resources and solutions for victims.
Chadwick is director of Passageway, a domestic violence intervention program at Brigham and Women's Hospital. She expressed concern that this year could rival 2007, a peak year in which domestic violence caused 55 deaths across the state, spurring Gov. Deval Patrick to issue a public health advisory on domestic violence in June 2008.
The recent Massachusetts incidents include some murder-suicides, she noted, thus making some cases where the casualties were both victims and perpetrators. But the vast majority of domestic violence victims are women, and even when men are victims, the perpetrators are usually men.
Another figure Chadwick presented is that at Passageway, 65 percent of the domestic violence clients are in minority groups, including 34 percent Latino and 25 percent black.
Besides facts on the current state of the problem, the three-hour discussion covered nuts-and-bolts information such as how the restraining order process works, and factors such as economics and social stigma that make it difficult for women to leave abusive relationships.
Panelist Katherine Morrison, an assistant professor of health studies and African American studies at Curry College in Milton, has interviewed more than 100 victims of intimate partner violence.
Morrison, who is African American, has focused her research on women of color in particular. She said she often talks about the idea of the "strong black woman."
 "In the case of domestic violence," she said, "I hear the phrase, 'the queen supports her king' —  she sticks with her man. She doesn't turn him into the police, because not only is that seen as weak, but as being a race traitor as well."
Panelists and attendees agreed community influence can be strong, and in some cultures it's taboo to act against the man of the family.
An audience member who works with the Haitian community suggested more work is needed to convey the problem to local ministers, who may urge people to "keep the faith, keep the marriage together" even in the face of violence against the wife.
A discussion of some case histories illustrated that the common suggestion to "go to a shelter" is not an easy solution for many women.
Emergency shelter space is decreasing because of funding cuts and increased demand, Chadwick pointed out. When it is available, it may be far from home, wreaking havoc with routines such as a job, children's school attendance and ongoing medical treatment.
If a woman isn't ready to leave the home or involve the police, advocates and counselors need to seek alternative solutions.