Art meets activism at Dot foreclosure protest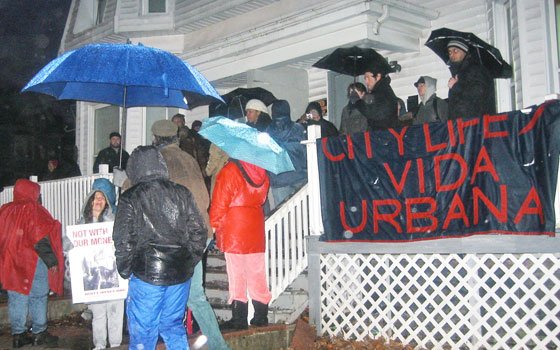 "We wanted to address the particularities of each person's experience, and also abstract it a bit," said Hulsey, "so it's not so embedded in one person's life, but in many people's lives."
City Life/Vida Urbana was founded 35 years ago to help tenants organize against rent increases and unfair landlords, but as foreclosures have ravaged the city's poorest neighborhoods, the organization has directed much of its energy to stopping post-foreclosure evictions, protesting against the banks and bringing attention to neighborhoods and streets riddled with empty houses.
During the past three years, the group has brought support and legal help to a large Bank Tenant Association made up of people experiencing foreclosure. The name reflects the idea that all inhabitants of bank-owned homes — both renters and former owners — are now "bank tenants."
One of City Life's tactics is to hold "eviction blockades" at homes on the day a sheriff or constable is set to forcibly remove the occupants. Right now, Meacham said, their blockade list includes five locations from which families are scheduled to be evicted in the next 30 days.
Saturday night's protest was part of a newer "block rebellion" strategy to publicize clusters of foreclosures rather than one on a specific property.
The first block rebellion was held last September on Cobden Street near Egleston Square, a short street that had 16 foreclosed units, many of them vacant. Since that protest, Meacham said, 15 of those units have been purchased or are in negotiations to be purchased by Boston Community Capital (BCC), a local non-profit lender partnering with City Life, and most are now occupied by renters or owners.
During the Cobden rally, Frances Louis, who had lost her Mattapan home to foreclosure in 2008, began an occupation, with her 10-year-old son, of one of the vacant bank-owned units.
At the Bullard Street rally, Louis gave an update. She said after BCC negotiated with the bank to purchase the unit she was occupying, she was able to move in officially in February as a tenant. It's been a turbulent period for her and her family, but she is relieved to have a place to call home.
"I was praying on it," she said.