City Fresh caters to community needs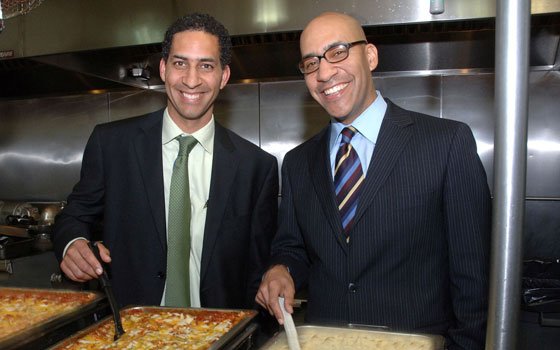 Say this about Glen Lloyd: He is a community guy.
For the last 20 years, he has driven through Roxbury and Dorchester preaching the gospel of minority-owned businesses.
"I've always bought into the idea that we need to be our own bosses," Lloyd says. "I've always believed that we needed to create our own jobs."
These days, Lloyd can use his own company as a textbook example of how to start and grow a successful business while maintaining a strong community commitment. And he practices what he preaches.
At City Fresh, Lloyd explains on his website, "Our mission is to create jobs in the economically distressed neighborhoods of Boston, and to create opportunities for equity and local control."
Started in 1994, City Fresh Foods Inc. has grown from a small catering company specializing in ethnic food to an estimated $5 million a year business with 65 employees.
Most important, Lloyd has seen his number of deliveries skyrocket to a staggering 8,000 meals a day, a far cry from when a handful of workers jammed into a small kitchen on Dudley Street and struggled to get out about 500 meals.
Indeed, doing good has been good business for Lloyd and his brother Sheldon, a partner and the company's vice president of business development.
It wasn't always this way.
Lloyd grew up in Sharon and graduated from Boston University with a degree in economics. He worked as a teacher in Louisiana for a while before returning to Boston to teach at the Log School Settlement House in Dorchester.
Quite naturally, Lloyd did far more than teach his students the requirements for passing high school equivalency tests. He talked business.
In fact, he advised one group of teenagers on how to operate a fruit stand, including lessons on bookkeeping, inventory, profit margins, revenue sharing and balanced budgets.  
"We're not teaching these kids how to work a cash register or how to flip burgers," Lloyd said at the time. "We're getting them out there into the business world and letting them get their feet wet."
But it was also time for Lloyd to get his own feet wet.
 The idea at first was at once simple and complicated. Lloyd wanted to serve appropriate meals to Latin and African American senior citizens. But he had virtually no staff, a barely reliable transportation system, and when he finally found a storefront to cook the food, the roof of the building caved in.
"It took us about three years to break even," Lloyd says. "It was a struggle for a while."
The first big break occurred in 1998 when the fledgling company received $190,000 from the Boston Community Venture Fund, a subsidiary of the Boston Community Loan Fund. Unlike the Loan Fund, whose goal was supporting affording housing, the Venture Fund's aim was to promote entrepreneurship as a way to create jobs for underemployed inner-city residents.
It was a perfect match. With just about $500,000 in revenues, City Fresh needed new money to buy better equipment and move into a larger space. They had tried to borrow money from conventional banks to no avail.