Jazz musician finds sound in Boston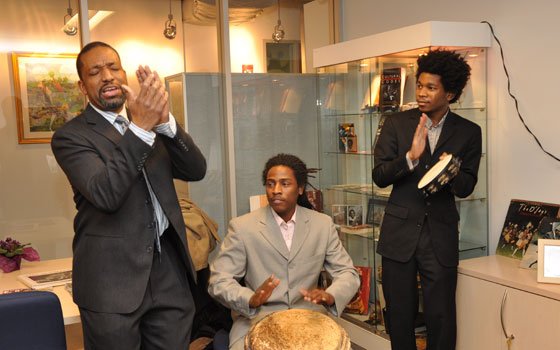 "Snare drums, changes from triplets to eighths," Harrison recalls. "When I gave him an idea, he really worked on it. Because of that, he was able to accent beats like a jazz drummer."
Harrison says his genre jumping enabled him to discern rhythmic and harmonic commonalities and connections between different music forms.
"I began writing different types of music — music that had a swing beat and funk in the bass drum," he said. "That's how nouveau swing came about."
Harrison's signature sound incorporates the African-influenced rhythmic sensibilities of Congo Square, the public space in New Orleans where Africans began gathering in the 1700s to share music and dance.
"It's a city that maintains traditions and has a respect for traditions," Harrison says of New Orleans. "It's a city where the culture continues to inform what is modern and a world-wide scale — jazz, RandB, hip hop, classical."
After Boston and New York, Harrison settled back into New Orleans. He has been chosen as Big Chief of The Congo Nation Afro-New Orleans Cultural group.
In his role representing Congo Square in New Orleans culture, Harrison serves as a sort of guardian of the drum rhythms that have been passed down from one generation to another since African slaves, many of them from the Congo region on the continent, brought them to the New World.
It's an honor that Harrison takes seriously.
"I went through a lot of years to get respect in that culture," he said.