Locally grown, fresh foods - at a low price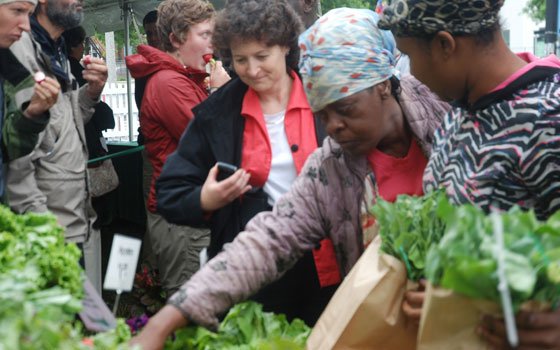 As Scott noted, the farm has "provided more than [job] stability, it created a community."
With fresh produce easily accessible, the women in ReVision House began cooking more — together.     Simmons-Dixon notices fewer fast food delivery cars pulling up to the Fabyan Street shelter and more families cooking, eating and sharing as a community.
But ReVision Urban Farm has addressed important community needs beyond the shelter. Through its farm stand, community-supported agriculture (CSA) shares and donations, the farm is an oasis in the middle of an urban food desert.
Fresh and locally-grown vegetables in Dorchester are "relatively unavailable," said Urban Farm Manager Matthew Kochka. The situation is what Scott described as a "catch-22"— weak infrastructure for providing quality food reduces demand for it, and reduced demand further weakens the infrastructure.
"What we've learned is that the community knows about good food and wants good food," Kochka explained, "but typically it's prohibitively expensive or it's just not available."
According to a 2009 U.S. Department of Agriculture report, 23.5 million people across the country live in low-income areas more than a mile from a supermarket. At the same time, minority and low-income areas have more fast food restaurants per square mile than white or high-income areas, according to a study in the American Journal of Preventive Medicine.
ReVision Urban Farm is attempting to break this cycle by providing affordable, quality produce and creating avenues for other farmers to sell their crops in Dorchester.
The Urban Farm's bounty includes spinach, collard greens, cabbage, raspberries, eggplant, peppers, mint and herbs, and is grown using all-natural, organic methods.
Last year's harvest yielded 7,500 pounds of produce — almost half of which was donated to local shelters. ReVision also worked with other local farmers to sell more than 10 tons of produce to urban customers.
Access to quality food is an important piece in the overall health of the neighborhood.
"We're trying to connect the work that the health centers of the community are doing," Kochka said. "They're teaching people about good food, and feeding their children well. But you can have all the nutrition education you want — if you have no fruits and vegetables to buy, none of it really matters."
Kochka hopes the new farm stand will "create a market for good food," so that other stores in Dorchester will "pop up that are selling vegetables that are the same quality."
"We're hoping to change the food landscape in Boston," he says.
ReVision's farm stand at 1062 Blue Hill Ave. will be open Thursdays, Fridays and Saturdays from 12-4 p.m.