Mass. Muslims fire back at Cahill over comments
Associated Press | 6/1/2010, 8:39 p.m.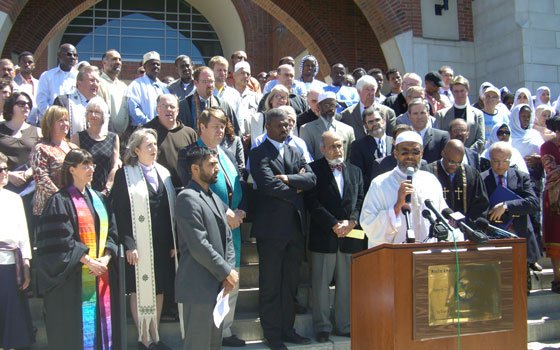 Right-wing politicians and pundits decried the speech as "un-American" and "giving 9/11 sympathizers a voice."
But Cahill's statement went beyond a campaign attack of Patrick, and rebuked the thousands of Muslims who live in Boston.
"The bottom line is, someone in Boston knew about this before it happened and didn't speak up," he said in reference to the recent attempted car bombings in New York City. Cahill's accusations came in the absence of any evidence of Boston Muslims' prior knowledge of the attack, and despite the ISBCC's numerous public denunciations of terrorism.
The day after the statement's release, Muslim, Christian and Jewish leaders from Roxbury and the greater Boston area organized to speak out against Cahill.
Sufia Hassan, a female leader and educator at the Mosque for the Praising of Allah in Boston, said remarks like those from politicians only give cover for some to "go after" Muslims.
"I feel as if myself and my children are being attacked," said Hassan. "I was very offended."
Bilal Kaleem, president and executive director of the Muslim American Society Boston chapter, called Cahill's statement "divisive and wounding" because it "effectively blamed the entire Muslim community . . . for harboring terror."
Moreover, he said, it suggested, "The top public official in our state should not have met with over 1,000 of his constituents."
"We condemn the politics of division, the politics of fear and the politics exclusion represented by these remarks and any others like them," Kaleem said.
Rev. Ray Hammond of Bethel AME Church also expressed his "disgust" at Cahill's criticism of the "full engagement of our Muslim friends in the democratic process."
"If we or our political leaders really cared about our safety," Hammond said, "the last thing we can afford is the cynical manipulation of our fear and the exploitation of our religious differences. This stereotyping, this divisiveness, this barrier-building has been the greatest impediment to the dream inscribed on the seal of the United States: E Pluribus Unum, from many, one."
Cahill defended his comments late Friday, saying that his criticism was not directed at the Muslim American community or at Gov. Patrick for attending a meeting with their leaders.
"It was about the lack of leadership Governor Patrick has shown in combating the threat of terrorism," Cahill said. "The governor missed an opportunity throughout this entire process to have an important conversation about coming together to combat terrorism."
"Instead the governor turned it into a conversation about sensitivity training for police," Cahill said in a statement. "That is simply not an adequate response to the threat that we face. That is not leadership."
The Associated Press contributed to the story