Hip hop festival unifies community, shares culture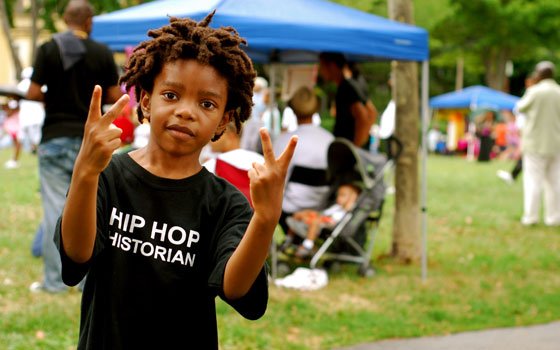 Visual artists, MCs, politicians, singers, break dancers and a myriad of others unified on Sunday in the Southwest Corridor Park, across from the Stony Brook Orange Line T stop to participate in the first Hip Hop 4 Life Culture Festival.
The event's organizer, Arafat Akbar, gave the crowd a synopsis for why the event was important before the acts came on.
"When hip hop started out as a culture, it was powerful, and it still is, only if we embrace it," said Akbar. "Hip hop is one of our most powerful forms of peer pressure. Look at the youth and what they follow ... the videos and the radio. It's about time we take this tool, instead of shunning it and pushing it to the side; we should lift hip hop to its full potential."
The family-oriented festival, although organized by adults, featured some of the best talent in Boston, many of whom are too young to see R-rated movies.
Isabella Brandao, 16, showcased some vines from her fashion line, Bella Rose, which had the crowd gasping and clapping furiously.  "I started out two years ago, taking classes at a local community center," said Brandao. "Going into the program, I knew I wanted to do fashion design, but it was a matter of learning how to sew and the whole business aspect of the fashion industry."
Carlos Henriquez, a community organizer and candidate for the 5th Suffolk State Representative seat, remembers Brandao as a child and enjoyed seeing her promoting a business he saw from its inception.  
"You see the growth in the kids and that comes from the support from us adults," said Henriquez. "The more we can do that, the better."
The star of the show was MC D, also known as Dakarai Washington. Wearing a black t-shirt that said "Hip Hop Historian" and sporting short dreadlocks, the 6-year-old MC controlled the crowd with original songs, such as "War" that made the crowd stand at attention, but tore the house down when he breezed through renditions of Eric B. and Rakim's "Clap to This", Boogie Down Production's "Criminal Minded" and closed out with Public Enemy's "Rebel Without a Pause."
 "That boy was amazing," exclaimed Ashley Rose, after performing her original, and ever-popular poem, "The Other Side of Ruggles," that explores the stark difference between streets like Whittier and Melnea Cass and Longwood and St. Botolph. "All I can say is that he has 'it'. To realize that there are still kids who do that block party type of stuff is great; I haven't seen that in so long."
Dakarai, whose name means happiness and originates from a language spoken in Zimbabwe, did not stumble upon his talent. Desi Washington, Dakarai's dad, introduced him to music by putting headphones on his wife's stomach while Dakarai was in the womb. He also bought him a Djembe drum before he was two years old.  
 "I looked back on my life and realized the deficits that I had," admitted the elder Washington. "So with him I try to fill in the voids that I had to provide for my son. I try to expose him to different things, not being heavy handed, but just expose him and let him explore and see what he likes."