An heir of expectancy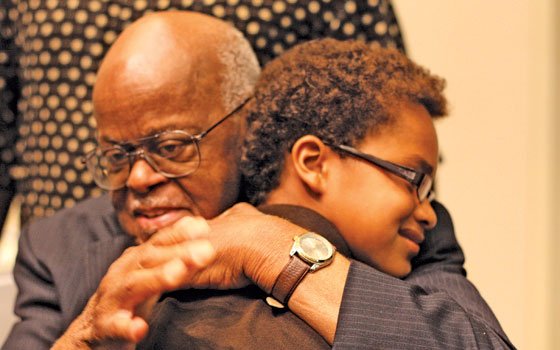 But the next stop for Keith at the time was as a Metco student at Cohasset High School. Quite naturally, the Elams received telephone calls from school officials every now and then informing them that Keith wasn't in school. His mother knew where he was hanging out and would go to those spots, pick him up and drive him to Cohasset.
He graduated on time, as he did at Morehouse. But the last straw with his family came when he boldly pronounced that he wanted to attend a two-year fashion school in New York City.
Judge Elam was not happy but helped finance the education anyway. When Keith returned home after the first year, explaining that he no longer was interested in fashion, Judge Elam had heard enough, informing his baby boy that he would now be on his own.
It was probably the best thing that ever happened.
"You have to go for yours," Keith would later advise young rappers. "Nobody is going to do it for you. My father used to say that all the time, but I never really learned that until I was out on my own. That's one thing a lot of young brothers have to learn for themselves."
Keith learned that lesson first hand. With his neighborhood partner, Big Shug, Elam initially performed in suburban talent shows and Boston clubs such as Chez Vous in Dorchester and the now-defunct Lanes Lounge in Mattapan.
But Guru's quest for recognition came to a halt in Boston. He decided to move to Brooklyn, the heart of hip hop. The road was tough, but a break occurred when Guru teamed up with Christopher Martin, known as DJ Premier. They signed to Wild Pitch Records and, in 1986, debuted their first album, "No More Mr. Nice Guy."
Later the pair dropped hits such as "Code of the Streets," "Mass Appeal" and "DWYCK." In all, they released six albums between 1989 and 2003 that were both critical and commercial successes.
"Step in the Arena" (1991) is considered a high-water mark in the genre, according to one reviewer, "as it combined Guru's brash rhymes — filled with braggadocio, humor and social critiques — and the inventive, often jazz-laced tracks provided by Premier."
Gang Starr's fifth album, "Moment of Truth," hit number one on the Billboard RandB/hip hop album charts. Along with artists such as Public Enemy, De La Soul and A Tribe Called Quest, Guru helped make the late 1980s and the 1990s what Rolling Stone magazine called "Rap's golden age."  
"Rap is way more than violent noise, which is what some people think," Guru told an interviewer. "I'm here to demonstrate that. The philosophy of taking control of your life comes out in my lyrics because it's what happened to me. There's purposely no cursing, because it's relating to and having respect for other generations."
That respect came in part from Roxbury in general and his godfather in particular.
As a solo artist, Guru released a quartet of critically acclaimed "Jazzmatazz" albums from 1993 to 2007. Those albums, each with a different musical slant and subtitle, found the artist working with a wide variety of artists including jazz greats Branford Marsalis, Lonnie Liston Smith, Roy Ayers, Bob James, Donald Byrd, Herbie Hancock; RandB stars Erykah Badu and Macy Gray, and fellow hip hop artists Common and the Roots.