An heir of expectancy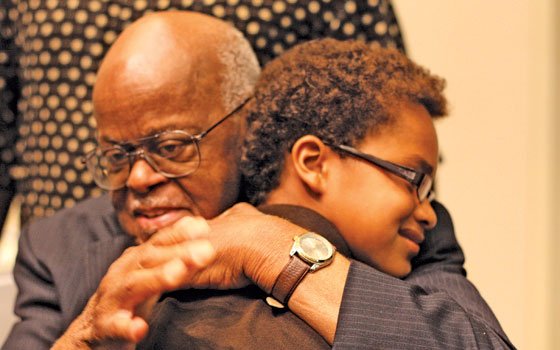 Guru was right about one thing. For Big Shug, who grew up in Mattapan and would later run afoul of the law, he never feared performing before another crowd. "I think that was one of the toughest things I have ever done," Big Shug said.
That story was shared with several hundred people gathered at UMass Boston last Sunday to celebrate the life of Keith Elam, the legendary musician who went by the name of Guru. Last summer Guru was diagnosed with multiple myeloma, a form of cancer.
In February he was taken to the hospital after suffering from related respiratory problems and soon afterwards slipped into a coma from which he never recovered. He died in April at the age of 47.
"He died too soon," Judge Elam told the gathering. "But he had been in a coma for a while and he would not have been the same Keith."
It was dignified crowd of lawyers and rappers, family and fans — most with a connection to Roxbury, from Ed O.G., arguably one of Boston's most renowned rappers to Willie Davis, the esteemed criminal defense attorney who kept a young Keith Elam focused during his days at Morehouse College.
Davis, a Morehouse man himself, told the story of Dr. Benjamin Mays, the former president of the all-male, historically black college in Atlanta.  According to Davis, Mays once talked about the "air of expectancy," where Morehouse men were expected to do well, and upon graduation to do exceptionally well and that he expected nothing less.
By all accounts, that message was not lost on a young Elam. In fact, success was already deeply rooted in his DNA. It just took a little time — and patience.
But spitting rhymes?
Even now, Judge Elam can only shake his head. His youngest son was the rebellious one, unable to flourish in a world of vigorous academic study and intellectual discipline.
"I would hesitate to tell people what he was doing, because I didn't feel that good about it myself," Elam once told the Boston Globe. "I used to say, 'He's in music,' but I would never specify rap. When he said that this is what he wanted to do, I was very unhappy, to be totally honest. Why would he want to waste his time doing this rap thing? I just couldn't see it. I have to admit that I was wrong. I made an improper judgment at that time. But I've come a long way."
Judge Elam did the best he could. He and his wife tried. They sent Keith to the prestigious Noble and Greenough School but that didn't work as planned. "Keith wasn't like his older brother who was an ideal student, class president and graduated with honors," Elam said. "Keith wanted to be his own person."
Keith's older brother, Harry Elam Jr. went on to Harvard and became the Olive H. Palmer Professor in the Humanities at Stanford University. A recognized authority on black theater, Elam is now Vice Provost at Stanford.