An heir of expectancy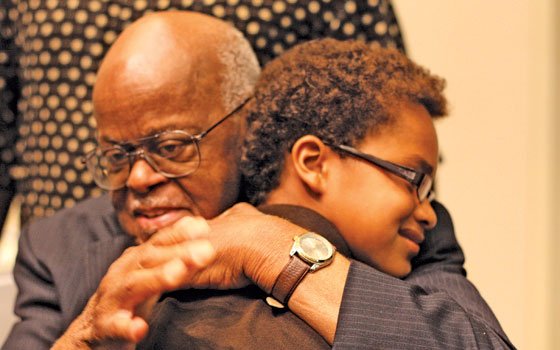 Known as the Judge's son, Keith Elam would change the hip hop industry as the legendary Guru – but he had to convince his parents first

Keith Cassim Elam, son of the late legendary hip hop artist Keith "Guru" Elam, hugs his grandfather Judge Harry J. Elam Sr. during a memorial service held at UMass/Boston Sunday, July 18, 2010. (Enesto Arroyo photo)
In the top photo, trumpet player Nick "Brownman" Ali plays a little jazz before celebrating the life of legendary rapper Keith "Guru" Elam during a memorial service at UMass/Boston last Sunday. Guru's nephew Justin Ruff, his brother, Harry Elam Jr. and cousin Russell Clark take a break for a moment. In the bottom photo, (l – r) pioneer Roxbury Rapper Ed O.D., DJ Moe D of Hot 97 and Lino Delgado, founder of the legendary bboy group the Floorlords, joined hundreds who paid their respect to the late Keith "Guru" Elam last weekend at UMass/Boston. (Ernesto Arroyo photos)

It was early in the rap game, back when lyrics were raw and the MCs outlandish, and, for the first time in his life, Big Shug was reluctant to go onstage: "I was like, 'I don't know, man.' "
The reluctance was understandable. But his partner, Keith Elam, was persistent, begging and pleading with Shug to do this one set — and things would be alright. If successful, Elam exclaimed, they would be able to pursue their dreams of making it big in the music business.  
And off they went to perform their act before two people — Elam's equally reluctant parents.
Distinguished attorney Harry J. Elam Sr., the first African American to preside as a judge in the Boston Municipal Court of Massachusetts, and his wife, Barbara, a noted educator and former director of the library system for Boston's public schools, was part of the dignified Roxbury, the one where success was more than a goal. It was expected, and in fact, demanded of the heirs of those who had achieved.
Rap, hip hop — whatever it was called at the time — was not part of that discussion.  "I thought I was going to be guilty of something," Big Shug recalled. "But we did it, right there in his parent's living room. And Guru was so happy that he kept telling me how much that meant to him and how he appreciated what I had done."