State initiative offers children services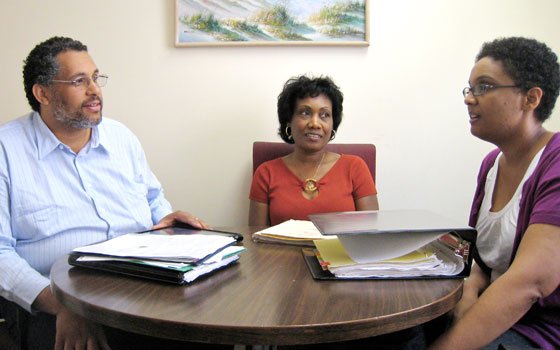 Genial and philosophical, Bermingham is an ardent believer in the wraparound approach, which he says is "non-paternalistic" and puts decision-making power in the hands of families.
"What's so exciting about this is it's almost like the democratization of health care," he said in an interview at CSR. "It's a realignment of the power structure. The 'professional expert' is not the main expert — the child and the family are also experts."
The children and families he sees could be dealing with conditions from bipolar disorder or ADHD to a range of anxiety, depression and trauma-related problems, he said. And very often, there are multiple issues, calling for multiple and creative solutions.
For instance, a child skipping school could be seen only as a truant who needs disciplinary action. A school might file a CHINS (Child in Need of Services) petition, which can sometimes lead to a child being taken out of the parents' care.
But a coordinated behavioral health approach would look at the family's situation and determine underlying causes. Bermingham mentioned an example of a girl avoiding school and exhibiting signs of anxiety and trauma. It turned out she and her mother had been moving from shelter to shelter to escape the mother's violent ex-boyfriend.
 The family's first need was protection and safety.
"And in the wraparound approach, we look at strengths as well as needs," Bermingham said. "In terms of strengths, the mother has made a positive step by leaving the boyfriend, trying to end a cycle of victimhood. She's brave, and she cares about her daughter."
Help for this girl began with a Family Partner, "someone who doesn't blame you or shame you," visiting the mother, he explained. Another team member connected the mother with a shelter for battered women and worked to marshal the authorities that could identify and arrest the boyfriend or in any case ensure the family's safety.
And over time, the teen began to trust and talk with the team, and was able to resume school.
CSR is one of four Boston area CSAs — the others are North Suffolk Mental Health, The Home for Little Wanderers  and the Massachusetts Society for the Prevention of Cruelty to Children — but the Roxbury agency is unique in that it was named a specialty CSA with a focus on the black community.
Pamela Ogletree, president and chief executive officer of CSR, was pleased to receive the specialty CSA designation.
"We felt it was very important to have a CSA specializing in serving black families," she said. "Children's Services of Roxbury has always served black families. We've been aware of the disparities that exist in a whole range of indicators that affect black families disproportionately."
In keeping with its specialty, CSR has a partnership with Boston University School of Medicine's Center for Multicultural Mental Health (CMMH). Within it is a multicultural training program for psychology Ph.D. candidates. About 85 percent of the program's doctoral students and more than 90 percent of its faculty come from underrepresented minority groups, according to Dr. Kermit Crawford, CMMH director.