State initiative offers children services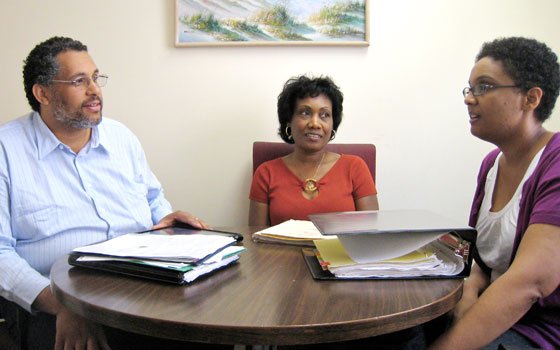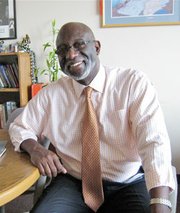 On a hot Friday morning in July, two dozen people dedicated to improving the lives of Boston's children and youth converged in a conference room at Children's Services of Roxbury (CSR).
This month's theme was safety. Participants pondered how to forge stronger connections with Boston schools and police. They shared information about community resources and youth job opportunities. Solutions ranged from youth-police partnership programs to parent training and summer camps.
Everything was smooth until a critical voice interrupted.
"You're all being too nice," said Dr. Mathieu Bermingham, a child/adolescent psychiatrist who joined CSR as medical director last July. He pointed out the recent spate of shootings in the city.
"Young people shooting each other is not typically thought of as a mental health issue," he said, "but I suspect kids caught up in these things have experienced some sort of trauma. What's your sense, your experience of what's behind this?"
It's that sort of stimulating conversation that makes these Systems of Care Steering Committee meetings critical to developing successful strategies. CSR has hosted nearly a dozen such meetings over the past year.
That day's meeting included representatives from the state Department of Mental Health, and a range of local nonprofits, including Pyramid Builders, Action for Boston Community Development, the Institute for Health and Recovery, Boston Emergency Services Team (BEST), Beacon Health Strategies and Mass Behavioral Health Partnership. About half of the meeting's attendees were members of CSR's growing behavioral health staff.
These regular, multi-stakeholder discussions of how to help youth and families from many directions are an example of the new coordinated, collaborative system of care ushered in by the Children's Behavioral Health Initiative (CBHI), a sweeping initiative implemented by the Massachusetts Executive Office of Health and Human Services (EOHHS) just over a year ago.
CBHI stems from a class action lawsuit, "Rosie D. v. Romney," brought by a group of families claiming that MassHealth, the state's Medicaid program, was not providing access to services to help children with mental illness stay in their homes — services required under the federal Medicaid Act.
The families won.
In a 2006 decision, a judge estimated that 15,000 Medicaid-eligible children with "serious emotional disturbances" were not receiving needed home-based services.
In response to the ruling, the EOHHS developed a remedy, which became the CBHI and was implemented on June 30, 2009. The plan designated 32 Community Service Agencies (CSAs) across the state to offer a range of behavioral health services to eligible children 0-21, under new coordinated care models.
"The centerpiece of CBHI is the intensive care coordination [ICC], and that's what the CSAs provide," explained Emily Sherwood, director of CBHI.
The ruling also designates use of the "wraparound" model, she said, where "you create a team of everyone involved in planning" for the child.
CSR became one of the new CSAs. As the 35-year-old agency stepped into its new role, it brought clinical staff on board, including Bermingham, who is also assistant professor of psychiatry at the University of Massachusetts Medical School in Worcester.