Teaching for America, right here in Boston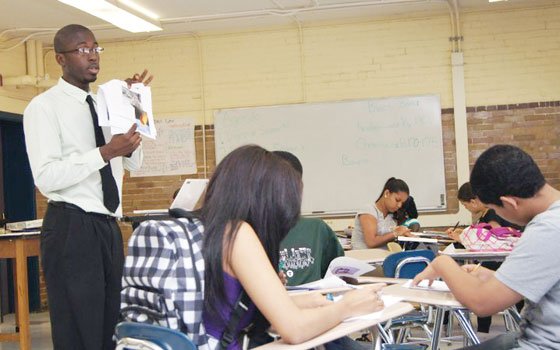 Biber also credits the population of more than 700 TFA alumni who live and work in the area, of which 30 are school principals. He explains that one of the reasons the first-year TFA teachers have adapted to Boston is that the alumni group understands the need for mentoring first-year teachers.  
"I felt like we all had great people around us who were willing to help us because they knew we were first time teachers," said Nembhard, "they knew how crazy that time was for us and they were able to provide us with resources."
Nembhard said that TFA's training program provided him with most of the tools he needed. He sought help from the more experienced teachers around him on how to put those new skills into practice.
For many of his greatest successes, he credits conversations with his principal and also his assigned veteran-teacher, Tony King. He said with the help of King, a founder of Newcomers Academy who specializes in English as a second language (ESL) education, he was able to be flexible with his curriculum to meet the needs of his students.  
When his students discuss their short-term goals, it is not just academic success they are after, but to learn English. It was important then for Nembhard to develop a curriculum that would not discourage them.
He initially taught a full biology curriculum, but during the semester he realized that the subject was too language intensive and he adapted his classes to a general science curriculum, including chemistry and physics which use's more numbers and figures.
"My big goal for the second semester was to reinforce and impart strong scientific thinking skills," he said. "More so than knowing what Newton's laws of motion were, more so than knowing  how to use the periodic table but knowing how to approach a problem, identify what you know, identify what you don't know and then to put things together and to follow a logical conclusion."
 Though there is no Massachusetts Comprehensive Assessment System (MCAS) for general science curriculum, Nembhard's students took the biology MCAS this year based on their first semester of education. Next year he hopes to take his students through an entire year of active chemistry or physics so that they can participate in MCAS and he can measure their success. He says, that based on what he has seen this year, the students can succeed even with the language barrier if they take the class for the full year.
The language barrier was more than a challenge for Nembhard this year; it opened his eyes to a harsher reality than he envisioned for low-income students. He took the position because he clicked with the administration and felt up for the challenge. Growing up in a single-parent home in downtown Providence and finding the kind of academic success that earned him a spot at Harvard University — Nembhard thought that he was a "poster child" of the achievement gap and that he understood what it takes to close that gap.