Neglected Popeye's employees win settlement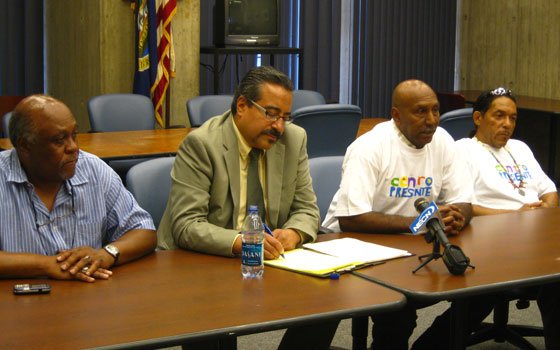 For three months, Bruce Quick toiled at Popeye's Chicken in Kenmore Square, working for a paycheck that never came. Although his promised rate of pay — $8.75 an hour — is just $.75 above the state's minimum wage, apparently it was too much for the owners of the Popeye's franchise.
Quick and the other mostly black and Latino workers at the busy franchise joined forces and contacted Centro Presente, an immigrant rights group. Working with a coalition called the Fair Wage Campaign, activists at Centro Presente took the case to the attorney general's office.
In May they won a $9,748 judgment against franchise owner Richard Taylor, former Massachusetts secretary of education and store manager Reba Danastorg, former executive director of the TenPoint Coalition.
Taylor and Danastorg appealed, disputing the amount owed to the workers.
But on July 1, when Centro Presente called a press conference at City Hall, Taylor and Danastorg handed over a bank-certified check for the employees' wages.
Fair Wage Campaign members at the press conference said the Popeye's case is just one of a dozen they are now dealing with.
"This case is a victory for the workers, but it's only a small step," said Centro Presente Executive Director Patricia Montes. "Labor exploitation is a problem here in the U.S. and around the world. Immigrant workers are particularly vulnerable."
In a Boston Globe report, Danastorg blamed the withheld wages on what she said were cash flow problems in the restaurant. Taylor blamed Danastorg for the management of the store.
The participation of Centro  Presente and the Massachusetts Immigrant and Refugee Advocacy Coalition in the Fair Wage Campaign underscores the prevalence of wage theft among immigrants in low-wage jobs in Massachusetts. Activists say the problem is common in low-wage jobs ranging from health care and human services to hotels, restaurants and private security.
"The workers are African American, Latinos, immigrants and ex-offenders," Montes said. "They are the most marginalized people in our society and they're the people who are most often being taken advantage of."
Quick, who is African American and Arapaho, said he was hired in September of last year as a cook, but performed a variety of jobs at Taylor and Danastorg's franchise in Kenmore Square. Working without pay created hardship, but Quick said he was repeatedly reassured that he would get his due.
"I stayed there under the word of Richard Taylor," he said. "A couple of times I got paid $400 in cash, but I never got a check."
In retrospect, Taylor's claims that the restaurant had cash flow problems seems implausible, Quick said.
"I don't see any reason they should not have been able to pay us with the number of customers they had coming through the door," he said.
The Fair Wage Campaign — a coalition of workers rights groups, including Centro Presente, Massachusetts Jobs With Justice, the Union of Minority Neighborhoods and Greater Boston Legal Services — will likely continue to work on the Popeye's case. There are 12 more cases pending involving workers from the eatery.
If there is a silver lining on the Popeye's case, it's that black and Latino workers and organizations were able to work together for resolution, said Horace Small, executive director of the Union of Minority Neighborhoods.
"We're very proud of working with our brown brothers and sisters on issues in the workplace," he said. "This is the start — I hope — of a powerful alliance to ensure that low-wage workers get paid."