New Armstrong bio looks underneath the grin of a great musician
1/27/2010, 7:52 a.m.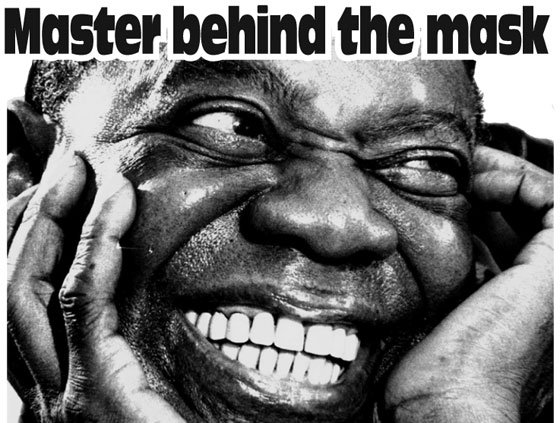 Enigmatic souls make compelling biographical subjects. The enduring paradox about Armstrong was what the author calls his "virtuoso clown" existence, the joyful stage presence many critics had difficulty reconciling with "fertile improviser" status. Teachout measures the exaggerated facial gestures, hipster ad-libs and minstrel lyrics in the context of the era, buffeted with his subject's deeper thoughts. Among Armstrong's own writings are musings on women, business, the virtues of marijuana and accountability in the black community.
When his still largely unknown band was playing one-nighters in the predominantly white Midwest, Armstrong developed what younger trumpeters Dizzy Gillespie and Miles Davis would later call "clown antics." For his part, Armstrong also felt obligated to impress those audiences with "demonstrations of his superhuman powers," such as his ability to play 250 high notes in succession. He worked his band mates hard, 300 nights a year like their early 1930's contemporaries, the equally criticized Harlem Globetrotters (who began as a Chicago team called the Savoy Ballroom Big Five). Pops' famed Hot Five recorded as "Louis Armstrong and his Savoy Ballroom Five."
Armstrong was a bit of an oddity. Even as a young star, Pops handed out money and gifts to lines of admirers outside his hotel rooms. He refused to play in his hometown New Orleans for years because it forbade integrated bands. He disliked fellow members of Fletcher Henderson's Orchestra because of their "lack of musical curiosity" and pompous ways. In 1931, when Memphis police arrested the band in a bus terminal after a white manager's wife argued about the band's tour bus rental agreement, he dedicated the song "I'll Be Glad When You're Dead, You Rascal You" to the police department during an intercity radio broadcast.
In 1932 their London engagement was met with criticism indicative of the period. One journalist wrote, "His actual presence gave me a shock" and found "something of the barbaric in his violent stage mannerisms." The "Daily Express" cited "savage growling is as far removed from English as we speak or sing it" and called the act "as modern as James Joyce." Another writer described Armstrong as "the ugliest man I have ever seen on stage."
Some British patrons walked out on the band. Swedish composer Gösta Nystroem was repelled by the "his clean-shaven hippopotamus physiognomy" — all supporting Teachout's belief pre-World War II Europe was no romantic haven for Jazz Age black musicians. Back home, "Time" referred to Armstrong in 1932 as a "Black Rascal," saying "no black man works harder." The article mentioned his marijuana habit, something never referenced in mainstream print again until a 1967 article in which Armstrong (dishonestly) denied usage. Even American songwriter Hoagy Carmichael ("Stardust," "Georgia On My Mind") spoke of the "big lips of his" and "cannibalistic sounds."  
Pops stood up to mobster managers, including a minion of Al Capone, but thrived as a crossover artist only after signing with Chicagoan Joe Glaser. Like former wife Lil Hardin, Glaser pushed Armstrong to new heights. In leaving personnel and touring matters to his wife and then Glaser, Armstrong struck an ideal balance between large living and business sense. The formula worked. By the early 1930s, he had recorded with country star Jimmie Rodgers, and his works had been covered by former mentor Joe Oliver, Earl "Fatha" Hines, Jelly Roll Morton, Ethel Waters, the Mills Brothers and Chick Webb. His influence was already audible in the styles of vocalists Bing Crosby and Louis Prima. The author maintains if he had only recorded "Stardust" and "St. Louis Blues," he would be remembered as the greatest jazz soloist in history.