"All My Sons" mines fresh power in Miller's classic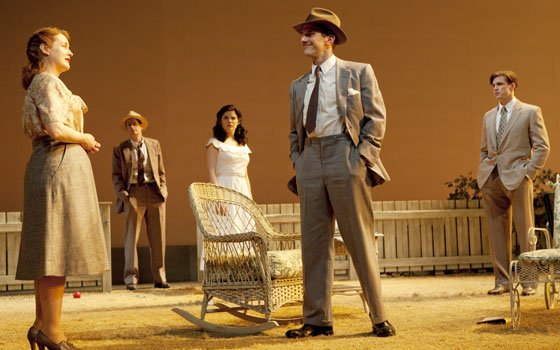 Lyman draws the growing sense of menace out of Miller's script, in which words such as "know," "jail,"  "honor" and "gun" frequently recur, each time gaining ominous weight.
Lee Aaron Rosen plays the Kellers' seething son Chris, a disappointed idealist. After witnessing the heroism of men in combat, he returns to find "nothing has changed at all." Refusing to defer his dreams any longer, he is determined to marry Ann, who was Larry's fiancée.    
Her arrival sets off an uneasy reunion of characters with conflicting desires. Kate madly hopes for Larry's return. Joe wants to preserve his family and business through Chris. Ann and Chris seek a new life free from their parents' tainted past.
As these characters negotiate their fates, their interactions shift in seconds between enraged confrontations and genial banter. With each exchange, tensions mount and threaten to tip the balance between a tentative peace and all-out war.
 Diane Davis as Ann stands in sharp relief to the haunted Kellers. She wholeheartedly pursues what she's traveled from New York for — an engagement with Chris — and holds her own against MacDonald's formidable Kate, who insists that she is "Larry's girl."
Only two people seem content: earnest, flakey Frank Lubey (Owen Doyle) and his wife Lydia. Frank got lucky: one year too old for the draft, he avoided combat, and married Lydia, who crafts stylish hats and sews fetching dresses. Stephanie DiMaggio is just right as Lydia, the pretty and down-to-earth young woman George pined for while he was away in the army.
Fanning Kate's wild hopes, Frank is studying Larry's astrological chart to determine if the day he went missing — Nov. 25th, was in fact his "favorable day." If so, says Frank, Larry's odds of dying would have been "one in a million."
Chris is not the only idealist in the neighborhood. Ken Cheeseman's Doctor Jim Bayliss is a lanky, rueful figure who had once aspired to do medical research. Jim's wry wife Sue, performed tartly by Dee Nelson, resents Chris for reminding her husband of his early dreams.  
An unexpected visitor arrives: Ann's brother George. Now a lawyer, he wants justice for his father. As George, Michael Tisdale registers the fury of a son defending a wronged parent as well as his susceptibility to the bonhomie of the Keelers, particularly Kate, who has doted on him since childhood.
But a slip of the tongue triggers the harrowing finale. As lies fall away, the starkest moment of truth strikes Joe to the heart. His realization gives the title of the play its meaning.