GOP win forces review of Obama's mandate
Associated Press | 1/20/2010, 6:39 a.m.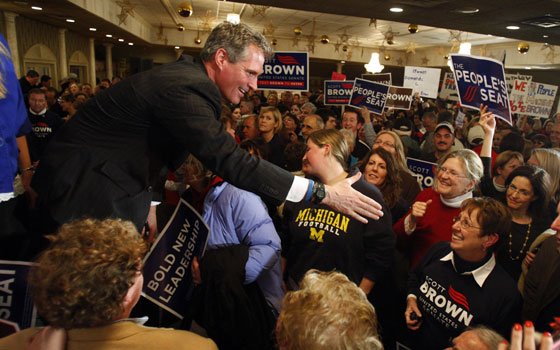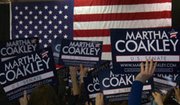 The stunning Republican victory in Tuesday's Massachusetts Senate race will force Democrats to fundamentally rethink the meaning of Barack Obama's election to the presidency, especially the notion that Americans want more government help in matters such as obtaining health insurance.
Scott Brown's win in a liberal state will do more than vastly complicate Obama's bid to overhaul the U.S. health care system and pass climate-change legislation. It will prompt politicians of every stripe to redouble their efforts to understand voters' anger and desires ahead of the November elections for Congress, governorships and state legislatures.
Many Americans saw the 2008 election as a repudiation of George W. Bush's presidency, with Obama as the fresh new leader promising to harness the government to expand health coverage, discipline banks and stimulate the moribund economy.
But Brown's victory over Democrat Martha Coakley suggests that many voters still harbor suspicions or outright resentment of the federal government, no matter who's in charge.
Conservatives, perhaps sensing the mood better than liberals, have accused Obama of big-brotherism and even socialism as he pushes his health plan and pours billions of dollars into economic stimulus programs.
The president rightly notes that he campaigned precisely on those issues. But that's small comfort to nervous and perplexed Democratic lawmakers who now expect stiff anti-incumbent winds in November and heightened GOP attacks against"  big government."
Even the smartest political consultants may need time to sort out Tuesday's lessons.
American voters rejected Republican control in the 2006 congressional elections and the 2008 presidential election. Democrats widely assumed that a top priority, and a winning political issue, was to make health insurance more accessible and competitive.
But now, just 14 months later, voters are snarling at the Democrats they put in charge, leaving them to wonder how to expand services without invoking public wrath.
John Triolo, a Massachusetts independent who voted for Obama in 2008 and for Brown on Tuesday, exemplified the confusing message.
"I voted for Obama because I wanted change," said Triolo, 38, a sales manager from Fitchburg, Mass. "I wanted change, I thought he'd bring it to us, but I just don't like the direction that he's heading."
Everyone should have health coverage, Triolo said, "but I think we should take the time to look at it, but not ram it down our throat."
Karla Bunch, a 49-year-old teacher who also voted for Brown in Fitchburg, said, "It's time for the country, for the taxpayers, to take back their money. It's not a vote against the president."
Obama may be as puzzled as anyone by his party's  inability to keep the Senate seat long held by liberal icon Edward M. Kennedy. The president "was both surprised and frustrated" by developments in the Coakley-Brown contest, spokesman Robert Gibbs said while voting continued Tuesday.
Democrats were dismayed last November to see the GOP take over the governorships of New Jersey and Virginia, states that Obama had carried the year before. But Tuesday's results are more painful and troubling.
Massachusetts is among the nation's most liberal states, and the candidates made it clear that a Brown victory likely would kill the Democrats' health care push in the Senate.