"This Old House" gives new life to a foreclosed Roxbury home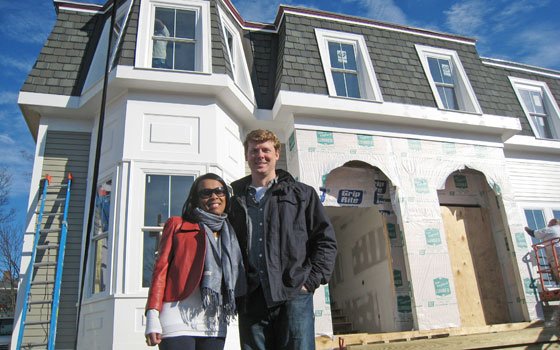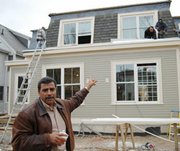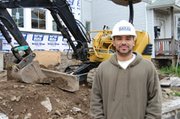 In the sharp chill of a December morning, Lanita Tolentino, 30, joked around with workers in the front yard of a major renovation project on Roxbury's Woodbine Street. For months, she had monitored the progress, watching the siding put on, the new roof shingled, a front porch emerge.
The house would soon be hers, and she was growing excited. She grew up a few blocks from here; many members of her large Cape Verdean family still live nearby. She brought her aunt along on this visit to see the house coming to life.
Shielding her eyes from the sun, Tolentino peered up to admire a thin stripe of red accent paint recently added below the new roof. Then she stepped aside to make way for a camera operator, director and producer as they backed up, huddled and conferred over how to frame the next shot.
This is no run-of-the-mill project — it's going to be on national television.
Since last May, the carpenters, camera operators, producers and plumbers of the PBS home renovation series "This Old House" — now in its 30th season — have toiled together here to craft not only a careful renovation, but also some eye-catching TV footage.
Far from their typical suburban home improvement project, the show's team has returned to its Boston roots to face a tough challenge: bringing this foreclosed, vacant and deteriorated Roxbury home back to life.
"We're responding to the times, this very unusual housing crisis," said Deborah Hood, the show's senior producer.
In a dark economic climate and a foreclosure-torn neighborhood, this house and its new owner represent a silver lining of sorts. Someone else's loss — abandoned and left to rot —will become Lanita Tolentino's gain, a polished gem and a starting point. Thrilled to be able to put down roots in her community, this hopeful first-time buyer could break the cycle of risk and loss that left this house so devastated.
When the producers approached city of Boston officials last spring to propose a Boston project, the Department of Neighborhood Development (DND) seized the opportunity to further its stabilization efforts in a troubled neighborhood.
"We told them it would be good to do a foreclosed property, and they thought that was a great idea," said DND Director Evelyn Friedman. The department had identified high-foreclosure zones for improvement and redevelopment projects, and Woodbine Street lies in one of the targeted zones.
Roxbury has borne a large share of the nearly 3,000 foreclosures in Boston over the past five years. The DND's maps show at least a dozen properties in foreclosure on Woodbine Street and its surrounding blocks. A few sit conspicuously empty, windows and doors boarded up.
But the producers of "This Old House" sought out the highlights of the area, and they were not disappointed. When the series premieres Jan. 28 (in Boston, the first segment airs Wednesday, Feb. 3 at 8 p.m. on WGBX 44), viewers around the country will get a sense of the vibrant Roxbury that surrounds this once-abandoned house.