'Actual malice'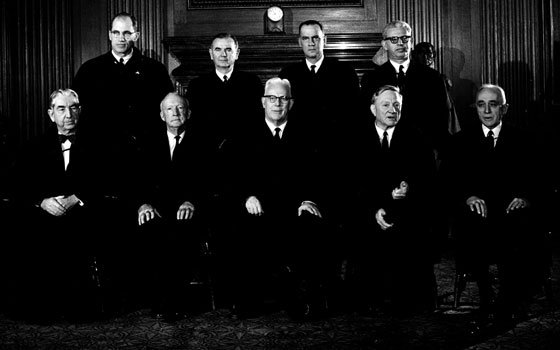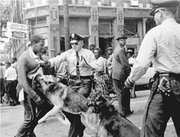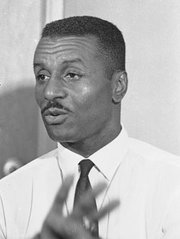 Landmark "New York Times v. Sullivan" case redefined libel and enabled press to cover Civil Rights Movement without fear of economic reprisal
A 17-year-old black civil rights demonstrator, defying a Birmingham, Ala., anti-parade ordinance, is held by a police officer and attacked by a police dog outside the Jockey Boy Restaurant on May 3, 1963. On the afternoon of May 4, 1963, during a meeting at the White House with members of a political group, President John F. Kennedy discussed this photo, which had appeared on the front page of that day's edition of The New York Times. (AP photo/Bill Hudson)

...debate on public issues should be uninhibited, robust and wide-open, and that it may well include vehement, caustic, and sometimes unpleasantly sharp attacks on government and public official…
-U.S. Supreme Court Justice William J. Brennan
Before Brennan's opinion, delivered on March 9, 1964 and written for the unanimous court under Chief Justice Earl Warren, white Southerners hell-bent on preserving their "cultural traditions" were having a field day with the New York Times.  
One of those Southerners, L.B. Sullivan, the Montgomery, Ala. commissioner in charge of police, had already won a $500,000 libel verdict in an Alabama lower court. That decision was affirmed in 1961 by the Alabama Supreme Court which assessed another $500,000 in penalties. Standing in line were several other claims of disgruntled Southern officials, including a $500,000 suit by Montgomery Mayor Earl James and $1 million suit filed by Alabama Governor John Patterson.
The case would then go to the U.S. Supreme Court on Jan. 6, 1964 and become one of the seminal cases on freedom of the press in the nation's history and establishing new standards for proving defamation. A public official, Brennan wrote, cannot recover "damages for a defamatory falsehood relating to his official conduct unless he proves that the statement was made with 'actual malice' – that is, with knowledge that it was false or with reckless disregard of whether it was false or not."
But at the time, none of that mattered to four black preachers, many of whom were lost in the shadow of Rev. Dr. Martin Luther King Jr.: Ralph Abernathy, Fred Shuttlesworth, Joseph Lowery and S.S. Seay, Jr. All four were also named in the suit against the New York Times. For these members of the Southern Christian Leadership Conference,  freedom of the press was not a theoretical issue but rather a tangible – and mounting — debt that Alabama courts were forcing them to pay.
As it was, Taylor Branch reported in the Pulitzer Prize-winning "Parting the Waters: America in the King Years 1954-63, the automobiles of Shuttlesworth, Abernathy and Joseph Lowery had been sold at a state-ordered auction. Some of the Seay's real estate was attached for quick sale. A lien had been fixed on the land Abernathy had inherited from his father, and lawyers were moving to discover other property that could be seized. Abernathy later disclosed that he stood to lose as much as $200,000.