A trumpet for his times (and ours):
1/13/2010, 5:55 a.m.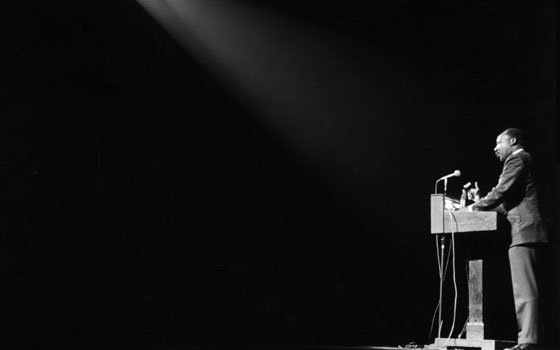 At times, Hodgson seems rather insensitive, or views the Movement through too European a lens. He punctuates both his narrative of the violent Birmingham demonstrations of 1963 and the heavy-handedness of the Alabama troopers and Sheriff Jim Clark's patrolmen at Selma by pointing out that "no one was killed." Of the latter circumstance, he cannot resist a dig at the name "Bloody Sunday" for the unbridled pummelings. Hodgson tells us that during Derry, Ireland's "Bloody Sunday" of 1972, 14 died. Such statistics, and Hodgson's citation that no live rounds were fired at the back-packed Selma marchers, obfuscate the indelible impact of the televised images, and the miracle that none of the voting rights activists succumbed to the blows of nightsticks or hooves of horses was not for the troopers' and policemen's lack of trying.
This is a worthwhile read because of the many major points of which the writer has a firm grasp. King occupies his place in history not only due to his leadership, bravado, judgment, stamina and fundraising abilities, but the mastery of his spoken language with his baritone instrument. Hodgson nails MLK's oratory sense of the dramatic, the role played by congregations and crowds whose traditional exhortations and interjections spurred him on and the Southerners' appreciation for oratory, wit and storytelling. He astutely credits the role Stevie Wonder's musical tribute "Happy Birthday" played in the legislation to honor King with a national holiday. In a section that assesses where black America, and President Obama, have come as a result of King's dreams, we read sobering statistics concerning a half of the "race" here who have not benefited — 25 percent of black men will serve prison time, 40 percent of death row inmates are black, and on and on. King's supreme gift, in Hodgson's eyes, was his "political witness and teaching," not confined to black causes, but worldwide poverty, U.S. involvement in Viet Nam and western colonialism. He is credited with using spoken and written  words to render defense of Jim Crow "untenable." The long-term societal impact was borne out by the shared tears of black college students and Movement veteran Rev. Jesse Jackson on Election Day 2008.

Bijan C. Bayne is a cultural critic and frequent Bay State Banner con