Roxbury Memorial reunion recalls good old days
Yawu Miller | 2/17/2010, 6:48 a.m.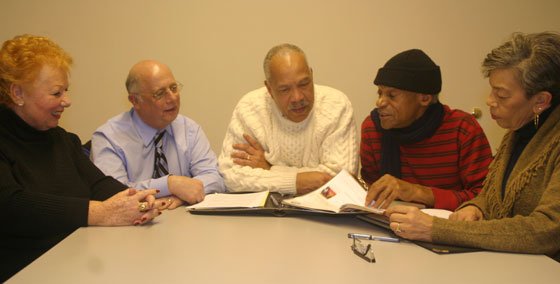 Ilanga '57 also credited the business courses with shaping his career, although he has remained in the arts. He served as manager of the G Clefs, the doo-wop group he co-founded at Roxbury memorial, then ran his own dance companies in Holland and Greece.
"I have never had an agent or empresario," says Ilanga, who now dances with and serves as artistic advisor and outreach director for Ballet Rox.
Bob Miller '60 went into sales with Proctor and Gamble, then management at Polaroid and now works as a business consultant.
Liberman has spent 50 years in an investment firm. And Gunderson, who is organizing the reunion, spent 30 years working in broadcast media, much of that time in human resources.
In the years following the closing of Roxbury Memorial, much has changed. Housing patterns in Roxbury, the South End and Mattapan became more segregated as the number of blacks increased and Jews left the city.
Racial tensions rose and spiked during the court-ordered desegregation of the 1970s.
But through it all, Roxbury Memorial graduates have stayed in touch and many of their singing groups have remained intact, including the G Clefs, which will perform along with other groups at the reunion, which will be held at Lombardo's in Randolph.