Photography training expands teens' horizons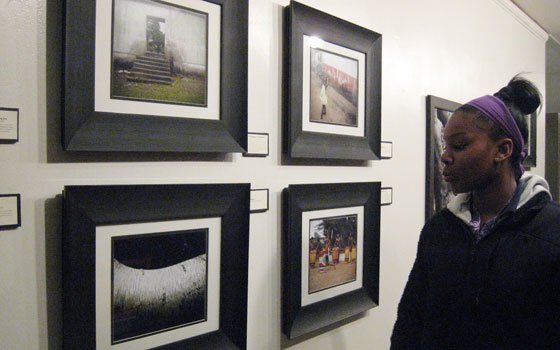 Stroud was one of the speakers. He was clearly stunned, noticing the size of the crowd. "Wow!" he began, and then got to his message. "I want people to understand," he said, "young people are powerful!"
He introduced Kyle Dietrich, president and co-founder of the organization.
"No one can give you a voice," Dietrich said. "You have a voice. But in our workshops, we're trying to give you a space to develop your voice, and have nobody take it away.
"For me it's very simple," he concluded, "We talk about young people as the future, but we need to talk about them as the present — because they are the present. And leaders can look like this."
Dietrich, a graduate of the Fletcher School of Law and Diplomacy at Tufts University and of Harvard Divinity School who has worked in the Peace Corps, founded the organization three years ago with Kate Fedosova, a photographer and human rights advocate with a degree in diplomacy/world affairs and French from Occidental College. They operate globally, Dietrich said, hoping to foster understanding between young people in different parts of the world.
In a later interview, Dietrich elaborated on the global connections, explaining how young people afflicted by gang violence have much in common with the former child soldiers and orphans they see in Burundi.
Peace in Focus will conduct a Spring Training Institute starting in late February at Madison Park Village in Roxbury, and Dietrich said they are planning a summer workshop as well.
Another of Stroud's photographs hanging at the Tubman House is called "It's Only Water." In it, a young man crouches alone within the spray of the fountain at the Christian Science Center plaza.
"Life weighs down on us, encloses us," reads the accompanying label, "but we simply have to step out of ourselves — our biggest obstacle to greatness."