Artist paints black history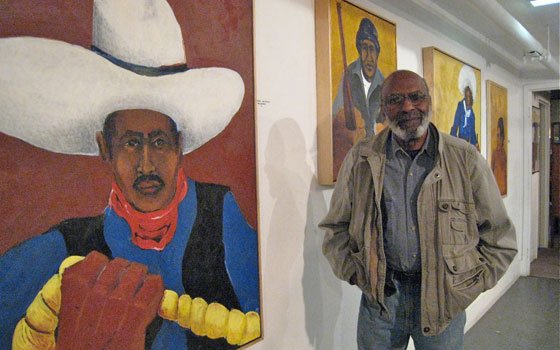 He became interested in art in about fourth grade, he said. His first drawings and paintings were of the New Croton Dam, which his grandfather had worked on.
In 1949, he went to the Art Career School to study commercial art. Then for years, he drove a truck, worked on a farm and found himself too busy to do much art. Eventually he took a night job at a V.A. hospital in order to attend classes at New York University by day. He earned a B.S. in Art Education there in 1963, and later an M.F.A. at City College of New York.
After several years teaching in Peetskill, N.Y., Kearsley moved to Massachusetts, where he taught art to middle schoolers in the Wellesley Public Schools for 24 years. He retired in 1996, but is still a frequent substitute teacher. He also teaches adults at his home studio in Newton.
At the reception for "Quest for Freedom," some of his current and former students were in the Boston gallery.
"He's more like a mentor," said freelance photographer Nathan Fried-Lipski, 28, who learned his craft from Kearsley. "I learned in his darkroom, and now I make my living in photography."
Julia Keith, 23, met Kearsley when he substituted in her sixth-grade art class in Wellesley. He told her about his summer art programs for kids. She participated in the programs for years before going away to college.
Now she's back in the area, and taking Kearsley's studio classes, even though her career has taken her in a different direction.
"He's an incredible teacher," she said. "He leads by example, but doesn't push students in any particular direction."
At 80, Kearsley hasn't slowed down much. When he's not traveling on artist fellowships, he's in his studio nearly every day, painting and doing research. He used a cane for occasional support at the Feb. 6 reception—but he still plays tennis. He's talking with a gallery in New York City about a possible exhibit.
He does some photography, and he's experimenting with sculpture, mainly carved wood—still figurative, and mostly on the theme of slavery. He's not sure, though, if that's his next big thing.
For one thing, teaching takes a lot of his time. But it is rewarding, with both kids and adults, he said.
And then there's the pull of painting. "I'll start a sculpture," he said, "and then I see something I want to paint, and I start painting."