Arts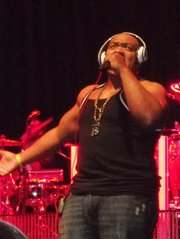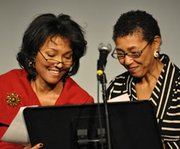 Timbaland at the House of Blues
Timbaland, a Grammy award-winning record producer, singer and rapper recently performed at the House of Blues in Boston. (Colette Greenstein photo)

 Krystal Banfield, Director of Berklee City Music and Rev. Dr. Gloria White Hammond. (Phil Farnsworth photo)

Producer extraordinaire Timbaland is ripped!  I tried to focus on his performance but at times I couldn't help but be distracted with how massive his arms are … they look like pythons. His performance was somewhat similar to when he performed with Justin Timberlake a few years back at the Garden. The difference being this time around that he got up from behind his keyboard and sang and performed and, to the amazement and delight of the crowd, even threw in some unchoreographed dance moves. One of the cool points about the show was the LED screens on stage, which actually featured Justin Timberlake and Keri Hilson singing to the songs produced by Timbaland. It reminded me of when I went to see Maxwell at the Hollywood Bowl last October in Los Angeles.  Maxwell also used several LED screens on stage where you could see Maxwell up close and personal from any seat at the Bowl.  I must say, pretty awesome technology.  And of course enjoying Timbaland that night in VIP was Melissa from WJMN's "Ramiro and Pebbles Morning Show."  
Berklee City Music Unsung Heroes Breakfast
By now, you should know that I am not a morning person by any means, especially on the weekends, but I really wanted to attend the Berklee City Music Unsung Heroes Breakfast.  It was held at the David Friend Recital Hall on Boylston Street in the Back Bay.   It was presented by The President's Office of Education Outreach at Berklee College of Music and featured guest speaker Reverend Gloria White-Hammond, M.D.  Over the years, I've heard many wonderful things about her and read some interviews about her community work. So, I was very much looking forward to hearing her words of inspiration that morning, and she sure didn't disappoint.
In addition, to being a doctor, Rev. White-Hammond is the co-pastor of Bethel AME Church in Boston and executive director of My Sister's Keeper. Her speech was about courage and time, and she spoke about her work with women and children in Sudan and in Darfur. In 2002, she co-founded My Sister's Keeper, a women's group that partners with women of Sudan in their efforts toward reconciliation and reconstruction of their communities.
The morning was filled with poetry, music by Beyond Borders Ensemble, Afro-Brazilian artist Marcus Santos and the Berklee City Music All-Stars.  There was also a presentation on student courage which included 1961 Freedom Riders, Jean Thompson and Judith Ann Wright.   One couldn't help but leaving inspired and also grateful for all that we have in our lives.