A mighty performance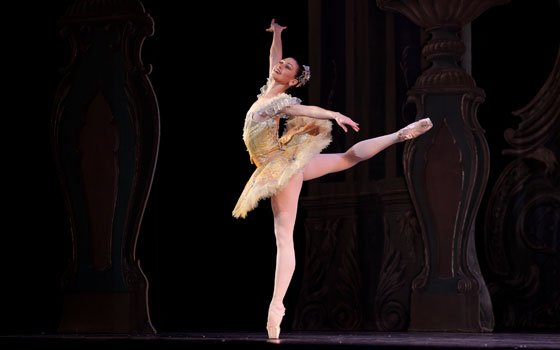 Rines has also performed in the season-opening ballet classic "La Bayadere."
As for his many roles in "Nutcracker 2010," Rines called Harlequin, which he also danced last year, his favorite. "It's very jumpy," he explained. "It's not just ballet. You have to be a doll (in the first act) and an evil doll, kind of creepy in the second act."
Boston Ballet fans have favorite principal dancers and sequences, but the greatness of the company's "Nutcracker" is the remarkable strength of its corps and the crispness of its over-all performance. "The Nutcracker 2010" is no exception.     Artistic director Miko Nissinen has fired up principals, soloists and student dancers alike to reach the consistency, the exquisite form and the synchronization of a world-class company.
"Nutcracker 2010" soared with crack technique and memorable spirit at a recent performance. Lorin Mathis was a suave if not enigmatic Drosselmeier, and Fiona Wada-Gill his rightly enchanted favorite Clara. Max Pounonov proved a feisty Fritz, and Pavel Gurevich was a tall, dashing Nutcracker escort for Clara.
Gurevich returned later with strong turns as Cavalier to Rie Ichikawa's very graceful Sugar Plum Fairy. Other standouts included Lia Cirio and Sabi Varga's sensual Arabian sweet and Kathleen Breen Combes's poetic Drew Drop Fairy.
Each year "The Nutcracker" stands as a kind of barometer for Boston Ballet's artistic condition. The sharpness of the ensembles and the tightness of each scene in "The Nutcracker 2010" bodes well for the quality and the artistry of its upcoming more serious fare –beginning with Balanchine's "A Midsummer Nights's Dream" ballet ( April 7-17, 2011 ).   
Next year, Rines will dance in "Tabula Rasa" by Helen Pickett as part of the Boston Ballet's "Bella Figura" program (April 28-May 8, 2011) and in the second cast for George Balanchine's "Symphony in 3 Movements" in the season's closer "Balanchine/ Robbins" (May 12-22,2011) . He is the only BBII dancer learning and performing the Pickett piece. 'I'm very thankful this year for dancing a lot. It's helping me be a better dancer." Some day he hopes to be a ballet master and a teacher as well.