Praising Ashmont Hill!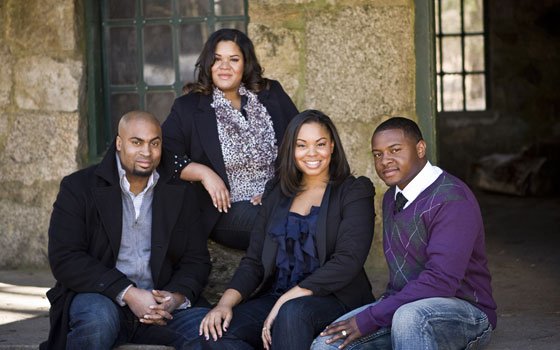 What are some of your career highlights so far?
April: Performing on TBN was a major highlight for us and they have called us back on the program again and so we have scheduled two more upcoming appearances with them. We sang at Crystal Cathedral, which films a program called "Hour of Power" and so we will be appear on that twice in 2011.
Can you talk about being a diverse group that knows no musical boundaries?
April: We think that it came out of the worship that we do at our church. Growing up, we listened to the Winans and Commission, but we also listened to white gospel artists because we were more concerned about the words of the music. We think our parents also contributed because they were listening to all types of Christian music. And now, with the influences of music made by Hill Song, the Australian church that puts out an album every year, we have been deliberate about making world-sound music.
If you had to categorize your music along the great span of religious music genres, where would you place it?
April: We don't like to answer that question [laughing].
What does "Imperfect Hallelu" mean? And who wrote that song?
April: Phil wrote that song and it talks about how Hallelujah is a universal word. In any country, and in any language, the one word used to represent the highest praise is Hallelujah. Putting imperfect in front of it refers to our makeup as human beings. It is not possible for us to ever be perfect, but we are serving a perfect God and we want Him to receive our imperfect hallelu.
Can you talk about some of the life-changing youth services that Tribute to Bishop Gideon A. Thompson will be benefiting, and how he has affected these services in Boston?
April: The purpose of this concert is to raise funds to support the Black Ministerial Alliance's (BMA) year-round, violence prevention, youth development, and out-of-school time programs that have been helping youth and families affected by the senseless violence that has taken place in the city of Boston over the past year. Some of these services include the Victory Generation and Teen Café. Also as president of the BMA for the past six years, our father has done a lot to support youth and these programs in particular and so the concert will help to raised funds and salute our dad.
Ashmont Hill can be seen and heard at Tribute to Bishop, hosted by the Black Ministerial Alliance of Greater Boston. The tribute will feature vocal powerhouse Regina Belle as headliner, Ashmont Hill, and Gospel Dream TV semifinalist, Erin Daneele. Performances will take place at 3 p.m. and at 8 p.m. on Saturday, Dec. 11, 2010 at the John Hancock Hall and Auditorium.
For more information, contact the Black Ministerial Alliance at 617-445-2737 x10 or visit them online at www.bmaboston.net.