Mass. attorney 'elected' head of NAACP Boston
Associated Press | 12/1/2010, 5:37 a.m.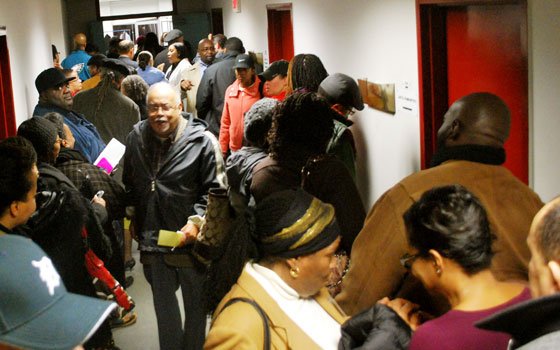 Monday night's voting at RCC comes as some members of the venerable civil rights group say the Boston chapter is not doing enough to reach out to younger potential members nor speaking out more on the issues of the day. That is affecting the NAACP's chances of growing in the Boston area and how it can address civil rights complaints, said member Marchelle Jacques-Yarde.
"The Boston branch does need a lot of work," said Jacques-Yarde, 28. "I feel that it has faded into the background and it's time to re-engage with the community."
Acting NAACP Boston President Julia Hardy Cofield said the Boston chapter has remained active on numerous fronts, including registering new voters and driving elderly voters to the polls. "The general consensus among members is that the NAACP in Boston has been doing absolutely nothing," said Cofield. "That could not be further from the truth."
Next year will mark the Boston chapter's 100th anniversary.
Both Curry and Owens and their supporters campaigned aggressively through social media, radio and community newspapers as they sought the two-year term. Members say it's been years since they've seen such an active campaign for the NAACP Boston chapter's presidency.
Curry's apparent victory was made more difficult because of the opposition to his candidacy by Juan Cofield, president of the New England area conference of the NAACP and Boston branch treasurer.
Cofield and others recruited Owens to run against Curry. A native of Demopolis, Ala., Owens, 73, came to prominence in the late 1960s as director of the Community Education Project of the Urban League, co-founder of the Boston Education Alliance and director of Jobs and Employment for Self-Improvement, a statewide program sponsored by the University of Massachusetts.
Owens entered the Legislature in 1972 as the state representative from Mattapan's Ward 14. Two years later, he bested fellow state Rep. Royal Bolling Sr. to become the first senator from the newly formed Second Suffolk District.
But by all accounts, the NAACP's voting process was not smooth. Questions arose over the handling of online registrations. Because of a computer glitch at the National office, applicants for the Boston branch received errant code numbers. That mistake disqualified an uncounted number of applicants from voting in this year's election.
To ensure that those votes were not disqualified, a petition was taken where organizers say several hundreds applicants filed a complaint.
But the long lines touched a nerve among some of those patient enough to wait. "It was horrible; it was too long," said David B. Eastmond, co-founder Road to Redemption. "People left because they had other appointments, and I thought it was sad for the NAACP to conduct their business like that."
Not all was negative.
"The process could have been improved," said Janet Humdy Morrison as she stood in line. "One nice thing is that there are people who are interested in the NAACP, that it is not dead, that it is alive and well and that's a good thing."
Sheneal Parker said she too was a bit frustrated when she learned of potential problems with online registrations. "But I was still able to vote tonight," she said. "I was able to cast a ballot and then I went downstairs and signed the petition to challenge the process. It was such a wonderful feeling to see everybody out here engaging in the voting process."