State senate race heats up in 2nd Suffolk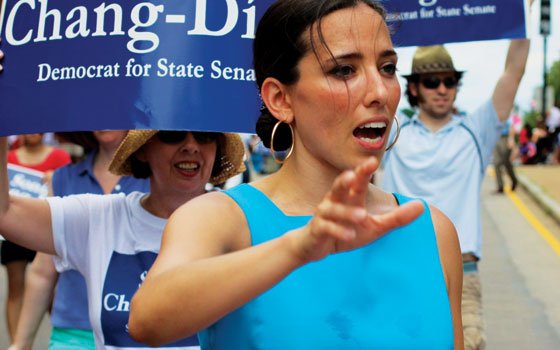 At the heart of the problem is the perception that the 2nd Suffolk includes two distinct districts, a division that was underscored during the 2008 primary that saw Wilkerson earn the votes of mostly blacks, Latinos and Asians in Roxbury and parts of the South End while Chang-Diaz pulled white progressives from Jamaica Plain and other parts of the South End.
Wilkerson lost to Chang-Diaz by just 228 votes in the primary. She won every precinct with a majority of black, Latino and Asian voters. Chang-Diaz won every precinct in the district with a white majority.
In all, the 2nd Suffolk District is about 45 percent white, 25 percent black, 15 percent Latino and 8 percent Asian. While the majority of district residents of voting age are people of color, whites in the district still have higher voter registration rates. And during the last primary, whites had higher turnout.
Of the 108,041 registered voters in the 2nd Suffolk District, only 18,736 showed up at the polls during the 2008 primary — a total of just 17.34 percent.
Given the division along race and class lines, it's a little wonder then that Williams, a Boston Law School graduate, wanted to show the differences within the district during last week's debate.  With photos of storefronts in the background, Williams pointed at several of them in predominantly black and Latino neighborhoods that were covered with steel-grates at night.
In stark contrast, Williams noted, storefronts in predominantly white sections of the South End and Jamaica Plain were just beaming with uncovered, glass windows.
His point was clear — image was important and the lack of leadership has failed to produce a safe environment for small businesses to prosper without the fear of crime.
But how to solve that problem  — as well as those associated with poverty, substance abuse, employment and education — are complicated issues, especially in the 2nd Suffolk District, where nearly 20 years ago Wilkerson also ran on a campaign questioning the political leadership.
It is Williams who is now questioning the leadership — and Chang-Diaz resting on her record.