Haitian forum addresses trauma, domestic violence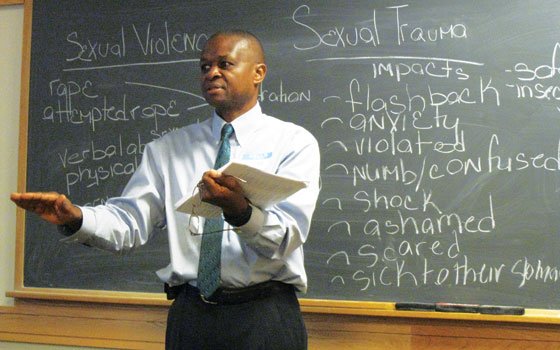 At one point Marc touched on what was evidently a sore point with many in the audience — the media's lack of attention to Haitian experts in the earthquake's aftermath.
"They go to Haiti and interview humanitarian workers who've been there six weeks," she said.
Her assertions drew a round of applause and a chorus of affirmative murmurs.
"The perception is there are no skills in the Haitian community," she continued. "The perception is we need technical assistance. And that's false. What we don't have is the infrastructure and the funding. We have researchers; we have experts. The Diaspora has not been tapped as a resource to address our own problems. And if we do not act, solutions may be implemented that are not appropriate. The news media needs to come into our community to recognize the talents, the resources, and most of all the dedication to solving our issues."
The Haitian Roundtable on Domestic Violence and Sexual Assault was formed by AFAB and Haitian American Public Health Initiatives to educate the community as a collective of service providers, and to share ideas and resources to stop domestic violence.
Other members include the Codman Square Health Center, the Boston Area Rape Crisis Center, the Massachusetts Department of Children and Families, the Haitian Multi Service Center, Massachusetts Community Health Services, the Family Justice Center and the Boston Police Department.
Besides the annual forum, the group holds monthly roundtable discussions on domestic violence prevention.