'Memphis' on Broadway recaptures 1950s soul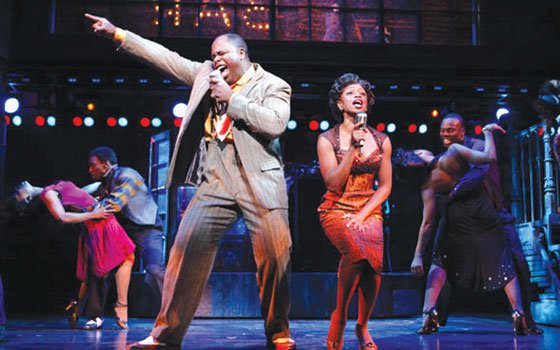 If Huey and Felicia are severely roughed up by white bigots, the general racist climate of the 1950s South does seem relatively understated throughout the musical. A different kind of liberty with the facts involves Huey losing his television show for kissing Felicia in what is actually a romance created for "Memphis. "
Kimball, Glover (and Beazer) and Calloway go far in covering over these weaknesses in strong numbers enhanced by Sergio Trujillo's fast-paced and sharply synchronized choreography — most notably in the funky club opener "Underground" and the very rousing finale "Steal Your Rock and Roll."
Rounding out strong supporting work are Derrick Baskin as a high-principle black bartender with a personal moment of truth and James Monroe Iglehart as a black janitor whom Huey befriends. David Gallo's sets and Paul Tazewell's vividly complement the musical's worthy if sometimes simplistic contrasts of hateful whites and beleaguered African Americans.
When Huey is dismissed from his television show, he is flatly told "You are through here. You are nothing special anymore." By contrast, "Memphis" is far from through with Broadway. Although the story of the trail-blazing effort of Huey (read Dewey Phillip) and Felicia's rise ought to be even more special, the soaring ensemble at the Shubert does catch fire with 1950s soul.
For ticket information, call 212-239-6200 or visit http://memphisthemusical.com.