Summer arts workshop provides rigor, rewards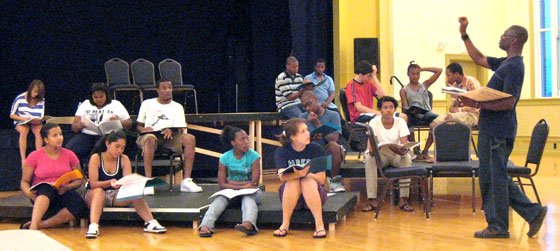 The show, titled "Bohemian Faces," is loosely framed by the opera "La Bohème," but weaves in other classical music and South African and African American freedom songs — and is set in a 1968 Paris wrought by labor strikes.
Two professional opera singers from Opera Boston, Korland Simmons and Joei Marshall Perry, will be rehearsing with the group and performing some of the operatic parts. In addition, participant Anita Murrell, a Longy School of Music senior and aspiring opera singer from Dorchester, serves as an example to the younger participants of what it looks like to be on the way to a career in music.
At the "closing circle," the students go around and give one word to describe how they feel at that moment. On this night, responses include "accomplished," "exhausted," "aggravated" and "excited."
 Some of the young people look a bit shell-shocked as they file out of the room and into the now-dark Dudley Square. But Samantha Tan of Quincy, who works all day as a camp counselor before coming to rehearsals, seems to understand what she's in for.
"I'm not going to say I won't get tired," the busy 16-year-old said, "but it'll be worth it."
The Vocal Explosion participants will perform "Bohemian Faces" at 7 p.m. on Friday, Aug. 13 at Hibernian Hall, 184 Dudley St., Roxbury.