'A second chance'
Associated Press | 8/11/2010, 7:12 a.m.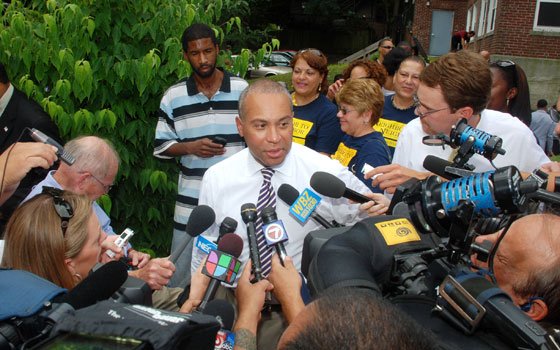 Supporters of the sentencing change say it will help the state save money, because the cost to supervise a person post-release is $2,500 a year. The average annual cost to incarcerate is $43,000.
"The best way to break the cycle of recidivism is to make it possible for people to get a job," Patrick said. "This legislation brings our outdated criminal history database into the 21st century, ensures law enforcement agencies, employers and housing providers have access to accurate and complete records in appropriate circumstances, and helps people get back to work so they can support their families."
The Rev. Jeffrey Brown, the executive director of the Boston TenPoint Coalition, said the "ban the box" provision will help former prisoners get further in the job application process.
"Previously, if you checked the box, the employer would throw the application away or set it aside because of the stigma attached," Brown said. "Now, employers can get to know individuals, which gives them the chance to explain themselves and explain their lives."
The new law also adds illegal firearms possession to the list of crimes a prosecutor may use to move for pre-trial detention of a suspect based on dangerousness and expands compensation funds to provide greater relief to crime victims.
Barbara J. Dougan, Massachusetts project director of Families Against Mandatory Minimums (FAMM) said that studies have shown mandatory minimum sentences do not reduce either drug offenses or drug dependency and addiction.
"Instead," she said, "too often they result in non-violent or low level offenders being punished with the same lengthy sentences intended for drug kingpins. The Legislature showed courage in its willingness to acknowledge that when laws do not work as intended, change is needed."
Many supporters of the bill said it finally addresses the problem in a responsible way.
"This takes a responsible approach to targeted reforms that improve public safety and address the costly problems of recidivism and overcrowding," Senate President Therese Murray said. "It also provides important new tools for employers to access the state's criminal records system."
State Sen. Cynthia Stone Creem said she was also pleased. "We are entering a new era, when people will have a better opportunity for a second chance to rebuild their lives," she said. "Our years of work toward CORI and sentencing reform have finally culminated in success."
Members of the Commonwealth CORI Coalition, a statewide alliance of more than 100 community organizations, labor unions and faith-based groups, were elated at what they called a "historic victory."  
"This victory is the culmination of years of tireless work to bring the issue to the forefront and build support for change," said Wilnelia Rivera, Chair of the Commonwealth CORI Coalition.  "Our state has made smart policy for public safety and our communities. CORI reform will stop the revolving door of recidivism, strengthen families and cut costs to taxpayers in the process."
Not everyone was pleased with the law. Republicans, all of whom voted against the final bill in the House, said the measure is soft on crime. Others said the bill doesn't go far enough.
According to a release from (FAMM), the bill that lawmakers voted on did not include two reforms previously endorsed by the state Senate: allowing drug offenders in state prisons the same access to parole, and allowing all drug offenders to be eligible for work release programs.
"Under current state law" the release pointed out, "drug offenders serving mandatory minimum sentences are frequently barred from either parole eligibility or work release program — even if such restrictions force them to leave prison without supervision or job skills."
Said FAMM's Dougan: "While we wish the bill had contained additional reforms, especially for those state prisoners who are serving the harshest sentences, FAMM views the current legislation as an excellent first step in the right direction."
Fennell says the work is not over. "We do not believe that it is time for any form of celebration," Fennell wrote. "But instead we need to plan for the reconfiguration of the Criminal Justice system as we now know it through education and empowering our leaders and communities."
Associated Press contributed to this story.