Best known for his high-profile relationship with Oprah, Stedman Graham has quietly built a reputation for community service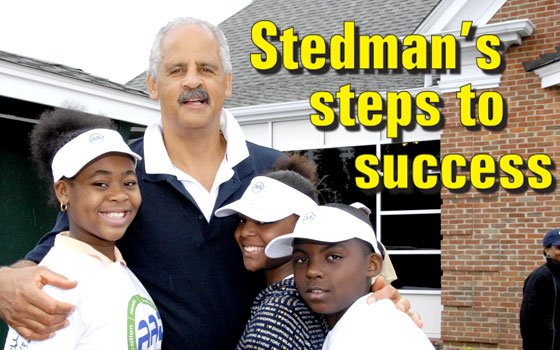 Best known for his high-profile relationship with Oprah, Stedman Graham has quietly built a reputation for community service
Stedman Graham was born on March 6, 1951 in Whitesboro, N.J., a community founded in 1901 by a group of prominent African Americans that included Booker T. Washington and Paul Laurence Dunbar. Stedman attended Middle Township High School where the 6'6" phenom starred on the varsity basketball team. After earning a bachelor's degree in social work from Hardin-Simmons University, he played professionally in Europe for a few years before returning to the U.S. to work on his master's in education from Ball State.  
An enduring, high-profile relationship with Oprah Winfrey has perhaps overshadowed the long list of business and charitable accomplishments accumulated over the course of Graham's impressive career as chairman and CEO of S. Graham and Associates, a management and marketing consulting firm specializing in the corporate and educational fields. A prolific writer, he is also the author of 10 books, two of which became New York Times bestsellers. And he has taught at several colleges, including a course on leadership at the University of Illinois and one on strategic management at Northwestern.
Most importantly, Graham has exhibited a lifelong commitment to community via Athletes Against Drugs (AAD), a nonprofit organization he founded in 1985 which remains dedicated to developing leadership in underserved youth through scholarships and education. Recently, Stedman talked to me about his work with AAD and other projects.
Tell me what's going on with Athletes Against Drugs?
The focus of the organization, which is really known now as AAD Education, Health and Sports is the positive, not the negative. Being in this business for 25 years has taught us that it's not about the drugs, but about providing positive choices, keeping yourself active and keeping yourself busy with activities, the proper curriculum and special events like taking kids to games. That's how you keep our youth off drugs.
Where is the organization located?
We're operating out of Chicago. That's our home base. But we do programs all around the country in coordination with various teams and various athletes. We provide programming in the schools, class curriculum, tutoring and sports field trips. And we have athletes come speak in the schools. We've done all that for years. So, we're really strong in terms of programming.
Didn't you have a big event recently?
Well, we had our annual golf tournament where we bring in a lot of athletes. It's one of our fundraisers. This year was our 25th anniversary celebration.
I told my readers I'd be interviewing you, and they sent in a lot of questions. FSU grad Laz Lyles says she heard that you teach at Full Sail University, which she says is an amazing arts college. She wants to know, what attracted you to this school, and what you're teaching there?
I teach identity education and development. I teach people how to find their passion. I do it using a nine step plan. I also teach them how to develop a bigger vision once they have that passion. The thing that attracted me to Full Sail is that they have their passion already. So, what they needed was the other eight steps.