A world of film - in Roxbury festival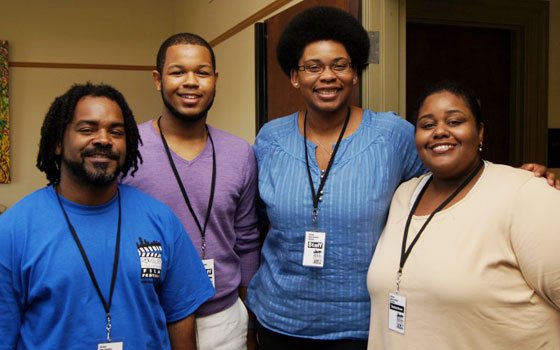 "It's a filmmaker's festival," Simmons said. "We want to affect change for filmmakers."
Topper Carew, a reknown filmmaker and panelist at this year's festival, echoes that sentiment. While working in Los Angeles as a television and film producer, the Roxbury native was first invited to participate in the festival in 2003. Carew happily accepted, and since then, has never looked back.
The RIFF inspired his "personal filmmaking renaissance" —  after 2003, Carew decided to "reinvent" himself from a hit network television producer of such hits like "Martin" into a serious documentary filmmaker.
Now Carew devotes himself to what he calls "conscious content," films that tackle important issues like education and youth violence to "ignite positive consciousness in the community."
Like Carew, other filmmakers at last week's RIFF grappled with urgent social questions, like immigration, the aftermath of Hurricane Katrina, transracial adoption and the American political process.
More than in Hollywood, Simmons explained, independent films reflect the world around them — and frequently take on the difficult topics that no one else wants to talk about.
After Hurricane Katrina and September 11, the RIFF saw an increase in sad and introspective films — before each of these events, films had a much more up-beat tone. Simmons characterized this year's films as "concerned," reflecting a country beset by an economic recession and on-going violence abroad.
 Festival Programmer Terri Brown agreed, and explained that the RIFF deliberately selects films that wrestle with the happenings of the world — so the tone of the RIFF changes from year to year.
 But for Catherine Morris, a RIFF volunteer since 2007, one thing has stayed the same. "It's been wonderful — I wouldn't trade it for anything in the world," she said. "It's like coming home."