Analysis: Torch passes in civil rights struggle
Associated Press | 4/28/2010, 4:52 a.m.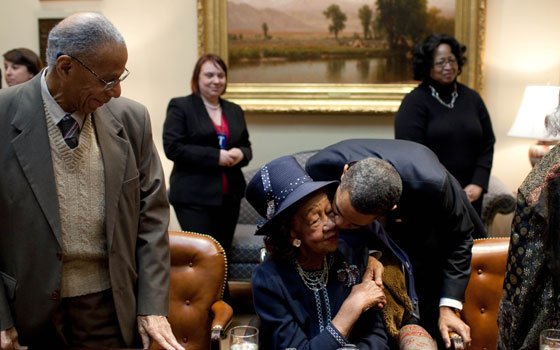 This generation does not live in fear of biting dogs or the sting of a fire hose, but must still fight to ensure equal access to education and employment. Having hundreds of black elected officials across the country does not eliminate the need to advocate the right to vote.
"Losing Dr. Height hurts immeasurably, but it also inspires unconditionally," said Julianne Malveaux, president of the all-female, historically black Bennett College. "When we think about the struggles she identified with and the work that she did, she's really left us with a social, economic and legislative agenda."
Malveaux said that many young people are respectful of history and may be ready to carry on the work of Height's mission, but others may see her labor as part of a bygone era.
"They have been seduced by our progress to feel that the civil rights movement may not be necessary," she said.
The call to action now extends not to an aging few, but to countless blacks from 18 to 70 — still young, compared to those who were stirred to action in the last century. Already there are those who have answered. The NAACP has at its helm the youngest president and chairwoman in its 101-year history. The Southern Christian Leadership Conference is preparing to install as its new leader Bernice King, the youngest daughter of King, the organization's most famous founder. And the executive director of Sharpton's National Action Network is under 30.
Whether they can rally their peers as their predecessors rallied for the betterment of a people remains to be seen. But, after years of asking, they will soon get their wish.
Associated Press