Analysis: Torch passes in civil rights struggle
Associated Press | 4/28/2010, 4:52 a.m.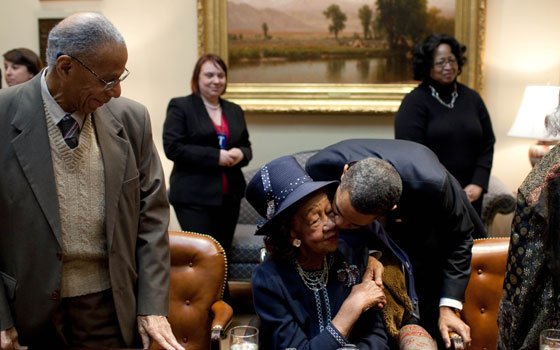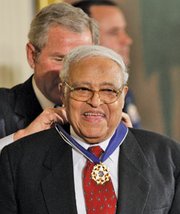 ATLANTA — The recent deaths of Dorothy Height and Benjamin Hooks, two icons of the civil rights era, nudge those who have come behind them closer to the control for which they have clamored.
It is a prospect that is at once enticing and intimidating for the movement's heirs, many of whom have waited years for their turn and a chance to further the progress of black America. Those years have caught up with both young and old supporters, and the graying civil rights generation has no choice but to step aside.
The next generation must decide whether it will step up as the nature of the struggle is in question and the future fight takes on a new identity.
It's put up or shut up now, said the Rev. Al Sharpton.
"I remember for years we said, 'Give us a chance,' " Sharpton said. "Well, we're center stage now. What are we gonna do?"
At 55, Sharpton is considered young among civil rights activists. He was groomed by people like Height and Hooks to lead after they left.
"They knew the struggle would continue beyond them," said Sharpton, who founded his National Action Network nearly 20 years ago. "We are facing more institutional inequities. These matters are not as dramatic as they were in their time, but they're just as insidious."
For years, the heroes of the 1950s and 1960s kept us connected to a time when the battle for equality in this country was real and present for millions of black Americans, decades away from the election of the first black president.
The larger-than-life examples of Andrew Young, Joseph Lowery and John Lewis, who marched alongside the Rev. Martin Luther King Jr. and lived to tell us about it year after year, were constant reminders that the fight is not over.
When she died last week at 98, Height was one of the few female voices of the movement. Her activism stretched from the New Deal to marching alongside King before she witnessed the historic election of President Barack Obama.
Hooks led the National Association for the Advancement of Colored People for 15 years after he was inspired to fight against social injustice and bigotry as a young soldier guarding Italian prisoners of war while serving overseas in the Army during World War II. Foreign prisoners could eat in "for whites only" restaurants, but he could not. He died two weeks ago at the age of 85.
The struggle they leave behind is far different from the one they inherited in a segregated America. Today, the Rev. Raphael Warnock of MLK's Ebenezer Baptist Church in Atlanta is carrying the mantle of social justice theology, fighting for voting rights and financial literacy and against disparities in the criminal justice system — without the permission of his elders.
"I don't know that anybody handed that generation the leadership," said the 40-year-old Warnock. "I think they took it. And the onus is on us to assume leadership and not wait on somebody to give it to us. We are clearly witnessing the changing of the guard."